How To Play Keno At Spin Casino Canada ?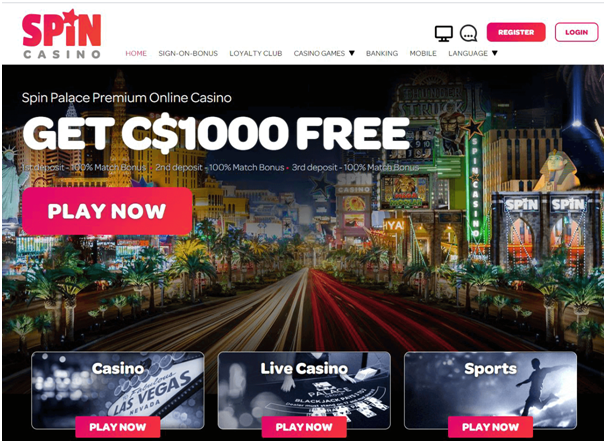 Playing Keno at New Spin Casino Canada
New Spin Casino launched two years back in 2017 and offers keno and slot games to play in real Canadian dollars. This casino is licensed and regulated by the Malta Gaming Authority and Kahnawake gaming commission which means Canucks can enjoy a legit casino online.
The games are powered by Microgaming and offers over 600 slots including keno games to play instantly without any download.
There are standard keno games and video slot type keno games.
Simply type the word Keno on the search bar at the Spin Casino games lobby and the Keno games will be listed for you to choose.
Or go to other games and find Keno to play.
At Spin Casino, the game is played with lots of numbers from 1 to 80, rather than with 100 characters. The smooth functionality and graphics will immerse you as soon as you start playing, no matter where you are in Canada at the time.
You choose your own numbers, often called Spots, and can mark up to 15 on a ticket. When you're ready, the winning numbers are announced. In land-based games this is done by a caller; online casinos world-class Random Number Generation software takes care of it. If at least 1 of your chosen numbers match the Keno online results, you win. What that all looks like depends on the Keno game you choose to play, as Microgaming has created options with different themes. You can find traditional and themed Keno online casino games at Spin Casino.
Standard Keno at Spin Casino Canada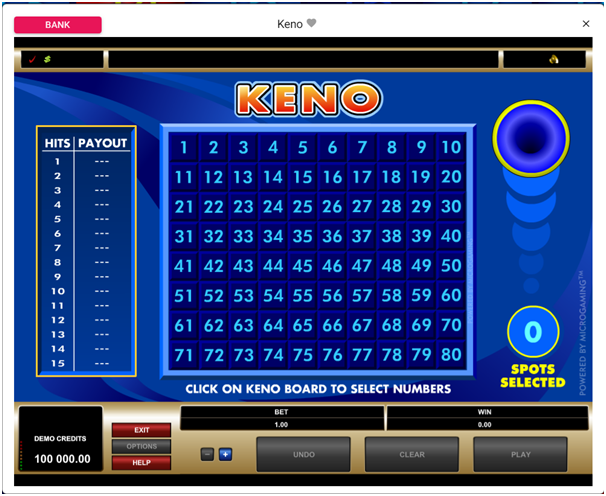 The Standard Keno at Spin Casino Canada is powered by Microgaming. Here you will find the keno game board with balls marked with numbers from 1 to 80. Twenty balls are randomly drawn per game. You can choose to place a bet on up to 15 of the 80 numbers on the game board per game.
The game payouts are dependent on how many numbers you select on the keno board. You can place different types of bets when playing Keno at Spin Casino. There are straight bets in which you make a selection of numbers, odd/even bets in which you select a majority of odd or even numbers, and top/bottom bets in which you select a majority of numbers from the top or bottom 40 numbers on the grid.
To start your play choose either to play for real money or play as demo game first to understand the game and its rules.
The navigation is quite easy. Simply click + sign to increase your bet or – sign to decrease it.
Minimum bet is C$1 and maximum is C$10
Click a number on the keno board and the number you select is highlighted. You can deselect the number by clicking on the same number you selectred before.
Now select 15 numbers
Tap or click on play button
Click clear to clear the board to have new numbers.
On draw the selected number changes color when it is matched with a drawn ball number. When all 20 ball numbers are drawn you are paid out according to the number of matches made.
The RTP of this game is 94.90 %
You'll get to watch balls bounce across the screen, and then hit the winning numbers to show you what they are. You'll be paid out according to how many of the generated numbers you selected, and how much you wagered in the first place. That's really all there is to it! As soon as one round is finished, you can choose a new set of digits and start another. How you make this selection is up to you; some people have very specific lucky numbers that they play every time; others simply make random picks.
The fast pace and bright colours are what deliver the fun here! This is great, but you do need to be careful that you don't get too caught up and spend more than you intended to. Therefore set and stick to a budget.
Monkey Keno the slot Keno game at Spin Casino Canada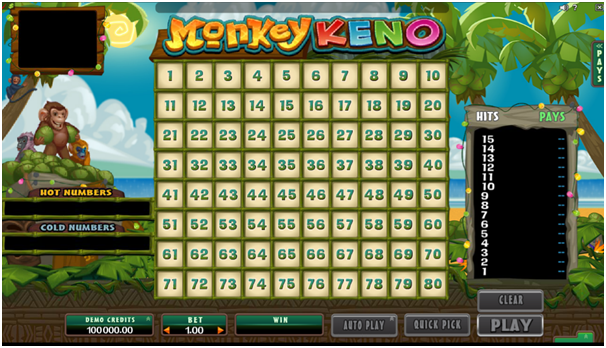 Monkey Keno is powered by Microgamng at Spin Casino. This keno game board with coconuts marked has numbers 1 to 80. You have to mark up to 15 spots on the board. Twenty numbers are randomly drawn per game. A hit is when a spot marked by you is one of the drawn number.
To play first select a bet amount, the minimum is C$1 and maximum is C$10
Then select spots that can be marked by clicking on the spots. When you have picked 15 spots you click to play and start the game. There are special features in this game like Hot and Cold Maps where it lists the 10 most drawn numbers and 10 least drawn numbers. Clicking on either the hot or cold numbers sections will use all the numbers as spot selections.
You can use quick Pick feature and randomly select spots to play. The number of spots selected is determined by previous play or use Auto Play,
To change the game options like graphics and sound settings and you can click on tab on the bottom right of the play screen
Then Click on options
Next choose the required settings and click on OK
Finally remember it's your choice to play real money Keno or play for fun. The real money keno involves to make a real CAD deposit at Spin Casino which is $10 as minimum amount. This you can do by friendly Canadian banking options available at Spin Casino. You can use credit or debit card like VISA and Mastercard, E Wallets like Neteller and Skrill, Instadebit, iDebit, Paysafecard and others.
But first you need to open a casino account as a new player by registering your self at Spin Caisno and then make a real money deposit. Don't forge tto grab the aweome welcome bonus which is C$1000 to play any choice of game here.
If you wish to play Keno for fun then no need to make any deposit but simply click on the game demo mode and begin to play.
See also
Full Spin Canada Casino Review
Do I Earn A Loyalty Bonus At Spin Casino When I Play Keno?