The Prizes and Odds of Winning Keno Pattern Play in BCLC Lottery Canada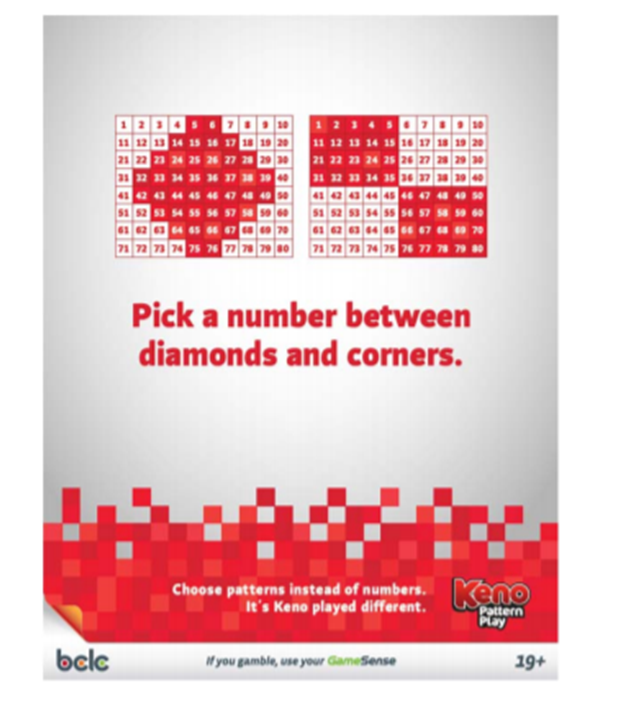 British Columbia Lottery or BCLC offers Keno and Keno Bonus lotto games in Canada with draws every 3.30 minutes. You can buy Keno ticket at any nearest lottery retailer, bar or pub or even online at playow.com. The ticket costs $1, $2, $5 or $10 per draw. Now choose numbers between 1-80 you want to play per draw (up to 10).
You can either select the numbers yourself or choose a Quick Pick and decide how many consecutive plays (up to 99)
Say "Yes" to the Keno Bonus for the chance to multiply your winnings by 1.5, 2, 5, 7, or 10 times. When you add Keno Bonus, the cost of your ticket doubles. The maximum ticket cost is $200 when playing Keno.
When does Keno Pattern play role?

Keno pattern comes into play if you don't want to use numbers in your keno ticket. So you use Keno Pattern Play and match patterns instead. Keno pattern play is available only in retail.
Whether you play Keno numbers or Keno Pattern you can win prizes upto $200,000
Keno Pattern Play lets you choose patterns instead of numbers. You can choose preset patterns like Crazy Corners, Diamond Daze, or Bull's Eye, or you can make your own pattern by selecting Rows and Columns. Keno Pattern Play costs $2 per selection.
You choose your pattern. Each pattern is comprised of 40 numbers.
Play one of the pre-set patterns: Crazy Corners, Diamond Daze, or Bull's Eye.
Or you can play Rows and Columns: Pick 4 rows, Pick 5 columns, or Pick 3 rows and 2 columns

You can also play Quick Pick, where 40 random numbers are chosen for you.
Then you can choose how many consecutive draws you'd like to play, up to a maximum of 49. Here also each Keno Pattern play costs $2. Your total wager is the number of consecutive draws, multiplied by $2. The maximum Keno Pattern Play wager is $490.
Watch the Keno monitor to see which 20 numbers are drawn and to see how many numbers you've matched. Check out the Keno Pattern Play Prizes & Odds table to see if you've won and to see your prize.
The Prizes and Odds of Winning Keno Pattern Play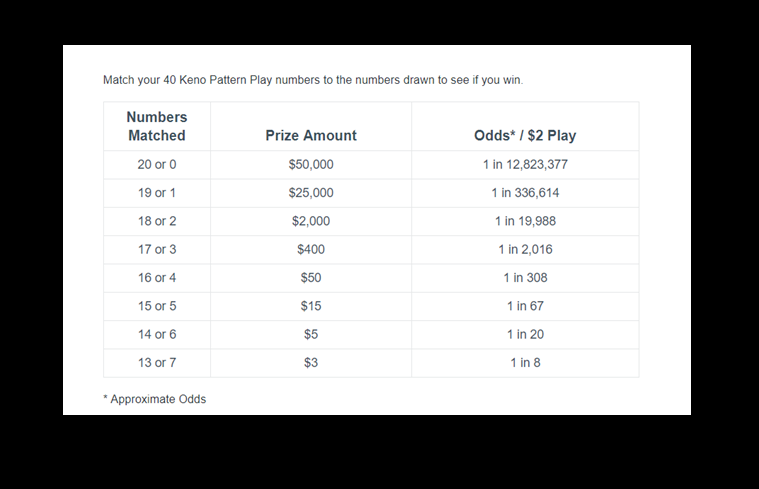 Remember that the Keno Bonus draw occurs right before each 3:30 minute Keno draw. If you have added the Keno Bonus, the multiplier revealed will multiply your Keno winnings by 1.5, 2, 5, 7, or 10 times.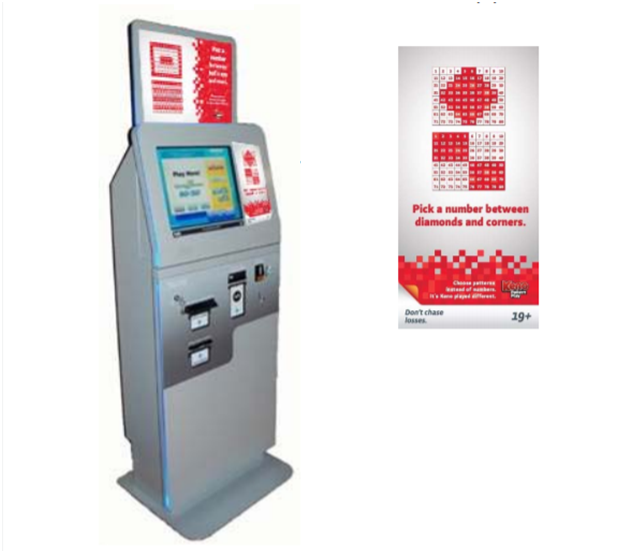 In the main draw match your Keno number to the numbers drawn to see if you're a winner. Your prize will depend on how many numbers you picked and how many numbers you matched. The maximum prize that can be won on any one Keno ticket, not including Keno Bonus, is $200,000, regardless of the amount wagered. The maximum combined liability for a given draw is $2 million. If you've won a prize of $2,000 or more, the earliest you can claim your prize is the day after the draw.