The 10 Most Popular Keno Games at Online Casinos to Play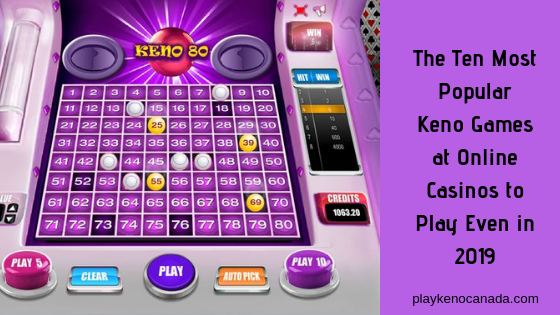 Play for free or with real money in CAD
Ultimate X Keno
Super Times Play Keno
Cleopatra Keno
4 Card Cleopatra Keno
Caveman Keno Plus
Multicard Keno
Triple Power Keno
246 Way Keno
369 Way Keno
Classic Keno
It is not only the lottery terminals or lottery sites that offer Keno game to enjoy but there are many varieties of Keno games that are offered by Canadian friendly online casinos for punters to play and enjoy them either for free or with real money in real cash CAD or BTC. These keno games are a slight different from the lotto Keno games. Here they work online on your PC, laptop, cell phone or tablet and are video type slot machines offering Keno as a video game play.
All you need is to pick the choice of your online casino and type the casino url on your PC web or any smartphone browser be it chrome or safari. Then register yourself at the casino if you are new player here, make a deposit of say $10- $25; grab the no deposit or welcome bonus, visit the games lobby, go to other games or speciality games and select the game of Keno you wish to play. The game will load in your gaming device, make a choice to play for free or with real money and get going.
If you play with real cash in CAD you can win cash prizes but playing for fun or for free will give you virtual wins within the game to play more. Playing free gets you understand the game rules and you can practice for free before you seem you are now perfect to get into real time gaming.
Here are the ten such popular keno games you will find at online casinos or at app stores to play for free even in 2019.
Note that Keno games at online casinos are powered by top rated gaming software companies like Microgaming, Playtech, IGT, NetEnt, Betsoft, Rival and many others, thus are legit to play.
1. Ultimate X Keno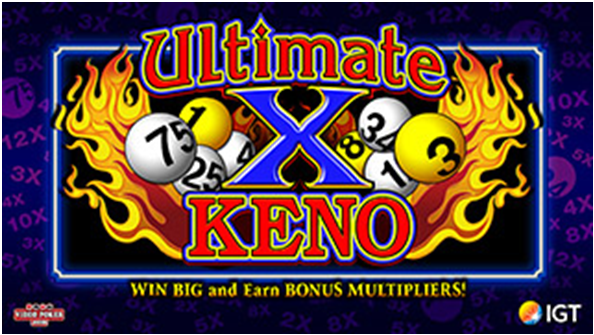 Ultimate X Keno takes Four Card Keno and combines the thrills of Ultimate X's multiplier action to create the most excitement ever experienced in a keno game. The new game has been programmed to randomly award multipliers nearly half the time that you are playing the game. The multipliers will range from two times all the way up to 12 times. The multipliers are awarded per card based on the previous card's results. Among the new twists as far as video keno is concerned is that players can earn multipliers on non-winning cards as well as winning ones.
2. Super Times Play Keno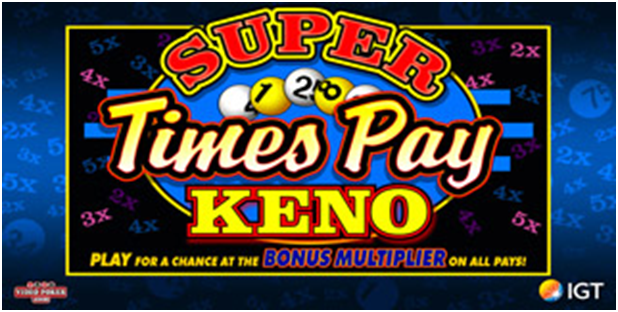 Super Times Pay Keno blends Four Card Keno with one of the most successful bonuses ever – Super Times Pay. This game iss designed to give players more action at a lower price point. The multipliers in this game occur randomly roughly every seven draws and range from two times to five times.
3. Cleopatra Keno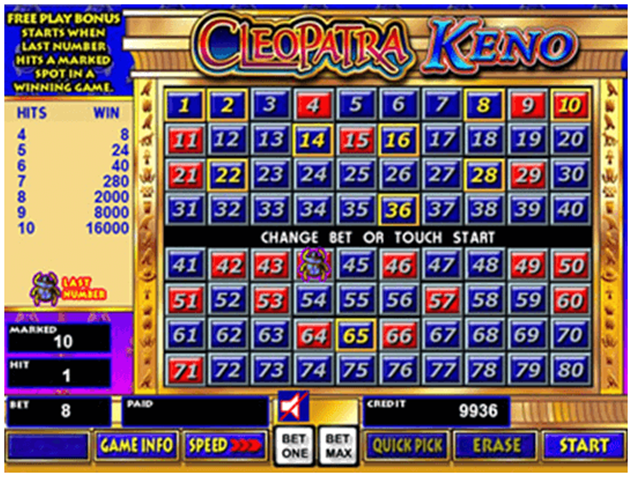 Cleopatra Keno is an exciting video keno game with a free play bonus if the last number drawn hits a marked spot in a winning game. The bonus is 12 free plays where any wins are multiplied by two. This means all wins in free games are doubled. Free games do not earn additional free games.
4. Four Card Cleopatra Keno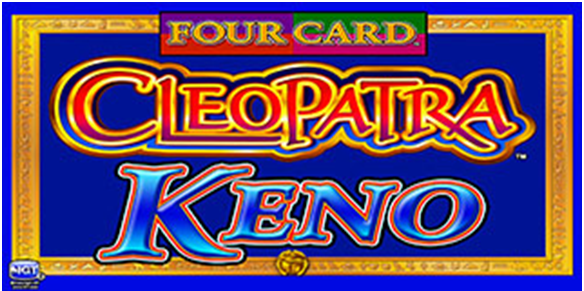 The game is same as the Cleopatra Keno only that it offers four card keno. The way the payouts are set up, it actually turns out that it doesn't matter how many numbers you pick, from one to ten, as the pay tables are constructed to provide a similar edge to the casino regardless. If you like bonuses and free games, you can't hurt yourself odds wise by selecting more numbers with your Keno games, but you can certainly increase your fun by picking more, and even going with 10.
5. Caveman Keno Plus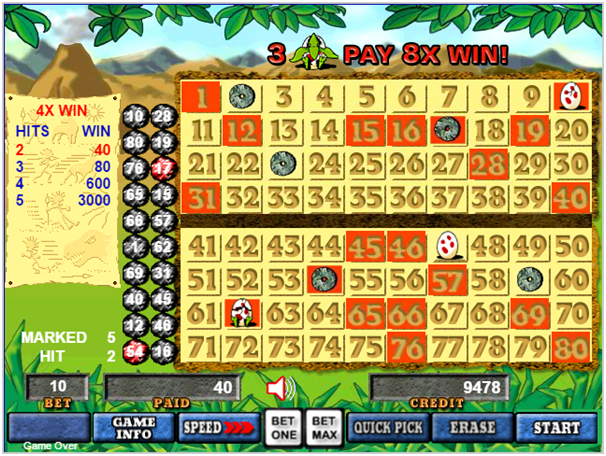 three numbers before the draw and if at least two of them match the 20 numbers drawn then the player will win a multiplier. The player chooses from two to ten numbers, ranging from 1 to 80, as in regular keno. The player will win depending in part on the number of the player's picks that match the 20 numbers chosen by the computer, as in regular keno. The player will get a multiplier according to the number of eggs that match the 20-ball draw. The usual multipliers are 1x for 0 or 1 match, 4x for two matches, and either 8x or 10x for three matches, usually 8x. The player's win will be the product of the win according to the pay table and the multiplier.
6. Multicard Keno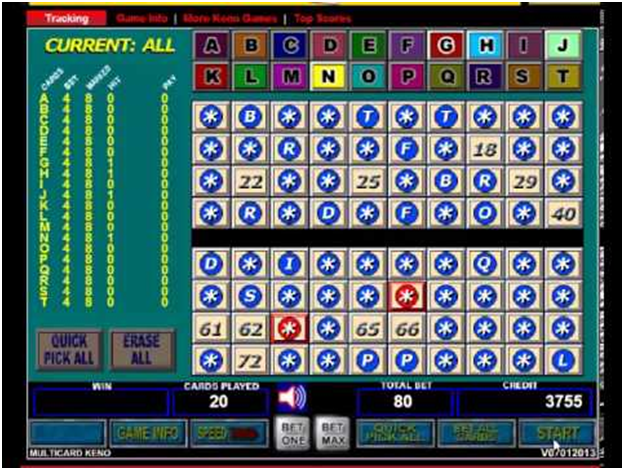 Here in Multicard Keno you have the ability of playing up to 20 cards at once for the ultimate jackpot payouts. You pick a card, place a bet and mark 2-10 numbers. Then choose another card and pick more numbers or alternatively play a single card all the way up to 20 cards at once. Press Start and 20 numbers are randomly selected out of 80. If you hit enough numbers you win, and if the draw pays on multiple cards you have supreme paybacks.
7. Triple Power Keno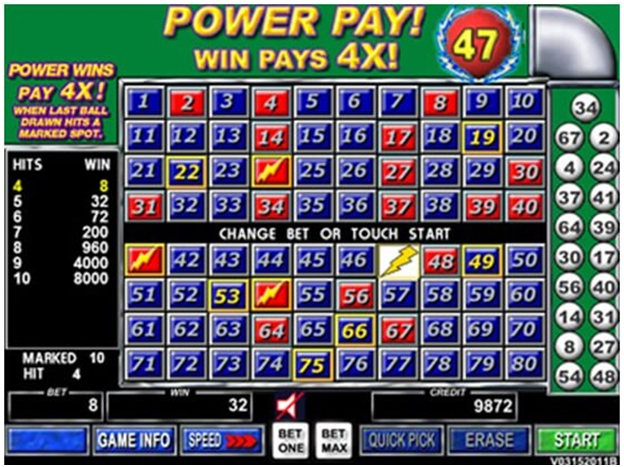 Triple Power Keno is a keno variation on a multi-game machine which plays like conventional keno, except if the last ball is one of the player's picks, then the player gets three extra balls and any win is tripled.
8. 246 way keno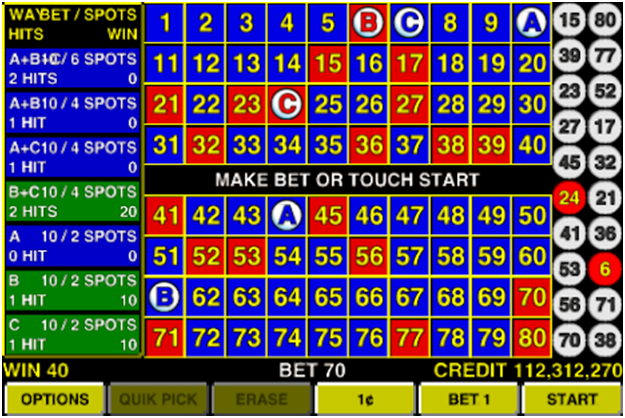 246 Way Keno is a keno variation with unique win combinations matching spots that correspond to lettered number selections. You can use multiple Way Tickets all the while with unlimited credits and unlimited play. You place a bet and mark 6 numbers. Your picks are automatically converted into 7-way tickets that allow you to win with several different combinations. Press Start and 20 numbers are randomly selected out of 80. If you hit enough numbers you win, and for ultimate jackpots you have multiple ways to win at once!
9. 369way keno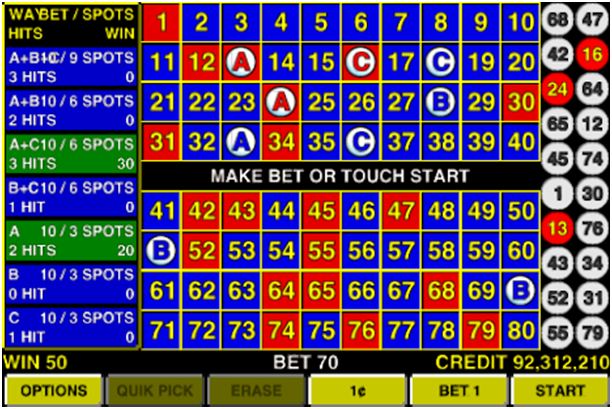 369 Way Keno is a keno variation with unique win combinations matching spots that correspond to lettered number selections. All you have to do is place a bet and select nine numbers. The nine numbers that you have picked are converted to seven-way tickets so you can win through different combinations. The game gives premium payouts to those who can hit multiple numbers in one go. Since the 20-number set that uses to match on your combination will be randomly taken from 80 numbers, you have high chances of winning cash.
10. Classic Keno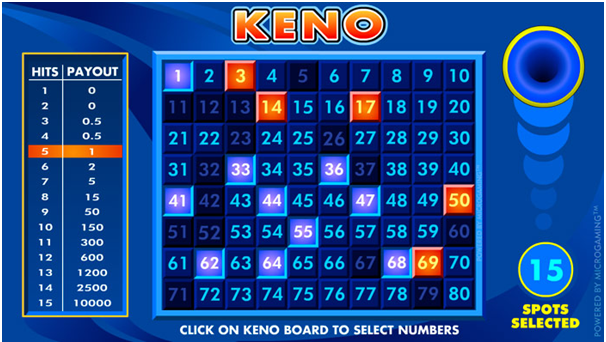 Classic keno is casino game that is fun and easy to learn. Players select a bet amount and choose between 2 and 10 numbers on their Keno card. Numbers are then randomly drawn and appear on the keno card as they are drawn. The more numbers you pick correctly, the more you win!
Remember that many of these Keno games have their own apps at Google Play store for Android cell phones and at iTunes for iOS devices. Also you can join any Canadian friendly online casino to play these games for free or real money.