Virtual Reality – What It Is and the Best 5 Virtual Reality Casino Games That You Can Play Online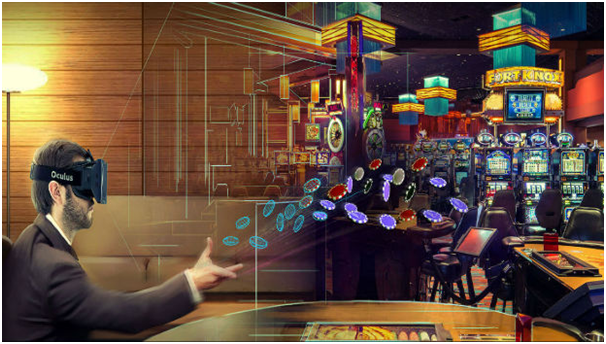 Virtual reality games are the talk of the town these days. As lots of people are excited about these games it is expected that virtual reality gambling would grow 800 percent by the year 2021. The experts in the field have been discussing virtual reality for a long time. Many experts were really not sure where virtual reality was going to go ten years ago, even though almost all of them were sure that society would have some advanced virtual reality capabilities by this point.
Gone far to the extent some experts believed that virtual reality would have more of an effect on various industries by this point, including the real estate industry. They imagined that people would be using virtual reality when they were deciding whether or not to buy a house, for instance. This will actually increasingly be the case. However, at present, virtual reality has become particularly prominent in the world of gaming. It has expanded the most in the gaming niche.
So what is virtual reality after all?
Virtual reality is a computer technology that uses Virtual reality headsets, sometimes in combination with physical spaces or multi-projected environments, to generate realistic images, sounds and other sensations that simulate a user's physical presence in a virtual or imaginary environment. A person using virtual reality equipment is able to "look around" the artificial world, and with high quality VR move about in it and interact with virtual features or items. VR headsets are head-mounted goggles with a screen in front of the eyes. Programs may include audio and sounds through speakers or headphones.
Why virtual reality became the center of attraction for players?
In 1990 several virtual reality head mounted displays (HMD) were released for gaming like the Virtual Boy developed by Nintendo, the iGlasses developed by Virtual I-O, the Cybermaxx developed by Victormaxx and the VFX1 Headgear developed by Forte Technologies. Other modern examples of narrow VR for gaming include the Wii Remote, the Kinect and the PlayStation Move/PlayStation Eye, all of which track and send motion input of the players to the game console somewhat accurately.
Commercial tethered headsets released for VR gaming include the Oculus Rift and the HTC Vive. Systems in development include Sony's PlayStation VR, requiring a PlayStation instead of a PC to run; the StarVR; FOVE and the Magic Leap.
Following the widespread release of commercial VR headsets in the mid-2010s, several VR-specific and VR versions of popular videogames have been released. Guild Software's Vendetta Online was widely reported as the first MMORPG to support the Oculus Rift, making it potentially the first persistent online world with native support for a consumer virtual reality headset. Since 2013, there have been several virtual reality devices that seek to enter the market to complement Oculus Rift to enhance the game experience.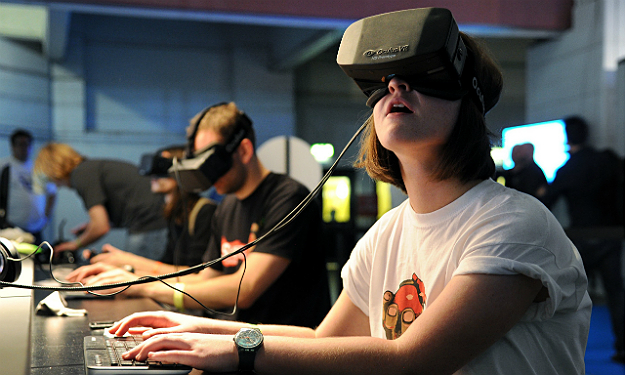 In 2016, Mojang announced that the popular children's video game Minecraft was playable on the Gear VR  A separate version was released to the Oculus Store for use with the Gear VR, similar to the Pocket Edition of Minecraft.
A lot of people are turning to entertainment of all kinds and that helped lead to the development of a lot of different mobile games, and it also managed to help further the development of virtual reality gaming technology.
Best five virtual reality casino games that you can play online
Last year online casinos also started rolling out virtual reality casino games for players.  Unique thing is  that there's no need for goggles, headsets or any other hardware to play these games. Of course, tech like the Oculus Rift goggles or Samsung Gear will enhance the experience, but without them the action is still presented to you in sumptuous VR 3D on your desktop or cell phone device. The graphics are just awesome and you will love these games forever. Here below are the best five virtual reality titles to enjoy at online casinos.
1. Jack and the Beanstalk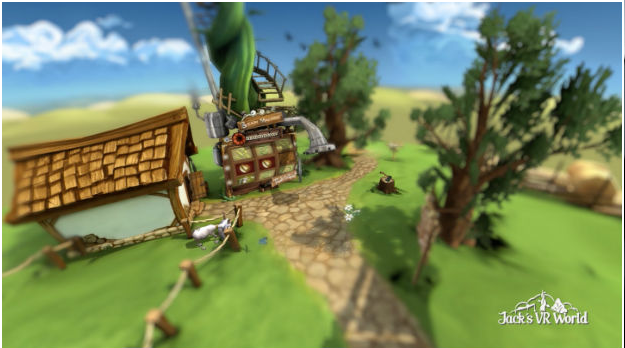 Brought to you by well known brand gaming developer NetEnt explore the Jack's World', its first exploratory mission in virtual reality using the classic slot game Jack and the Beanstalk as a foundation. This mini release featured enhanced graphics and 3D soundscapes to deliver a truly exhilarating experience to owners of the Google Cardboard tech, which is a VR platform that uses a smartphone head mount to help translate the images on screen to virtual reality.
2. Starburst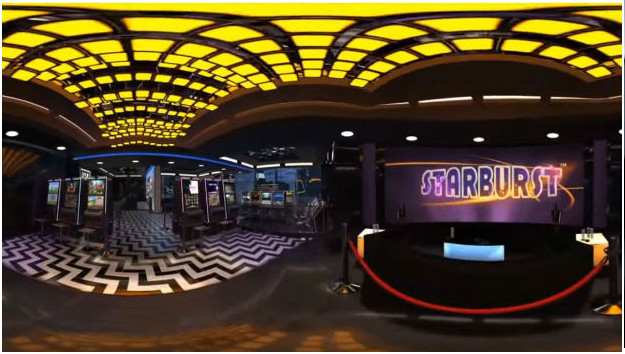 Starburst is another best VR title from NetEnt where you form the winning combination of outstanding graphics, immersive soundtrack and unrivalled gameplay. With just ten paylines you might imagine many players giving it the cold shoulder, but such is the high stakes nature of the game that many return for more time after time.
3. Miss Midas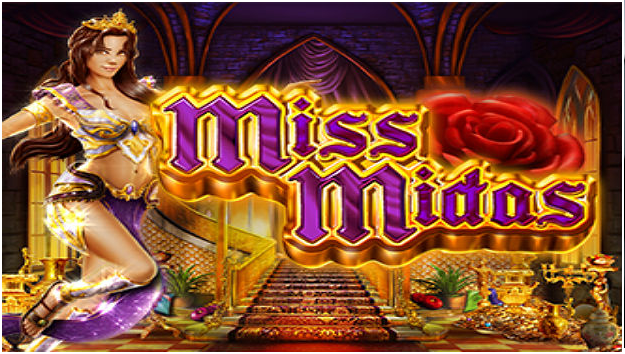 Developed by Next Gen gaming technology it is the classic tale of King Midas replaced by the rather more ravishing Miss Midas. Even though the former eponymous hero was renowned for his generosity in turning anything into gold, his female successor is as equally generous in this all-action 25 payline slot.
You may or may not be aware of NextGen's excellent 'Superbet' technology, which adds an extra lucrative layer to proceedings. With it, players can buy extra symbols to help them create additional winning combinations – a feature that has caught the eye of many discerning gamers in the past few years.
To add further motivation for giving Miss Midas a spin, it is has now been given a virtual reality facelift to help usher in the next generation of online casino gaming.
4. Blackjack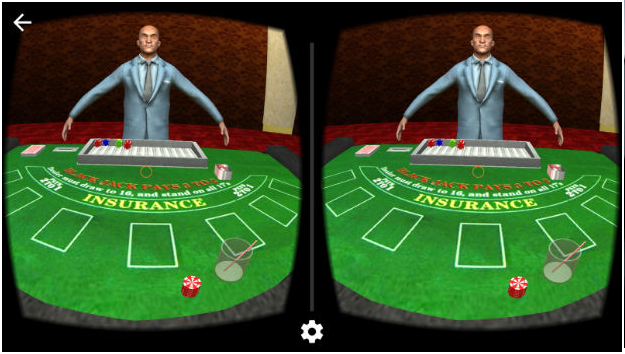 Blackjack is a simple battle for supremacy between two parties: you and the dealer. The house edge is stacked in the dealer's favour. He also has the advantage of acting second: if you stay on 17, for example, he knows exactly what he needs to do to beat you.
It can be the most enjoyable, the most profitable and occasionally the most frustrating of games, but the recent rejuvenation of this old casino favourite as a virtual reality trendsetter adds further excitement to the action. Players can now see the look on the dealer's face when they are defeated; that's a bonus in itself
5. Roulette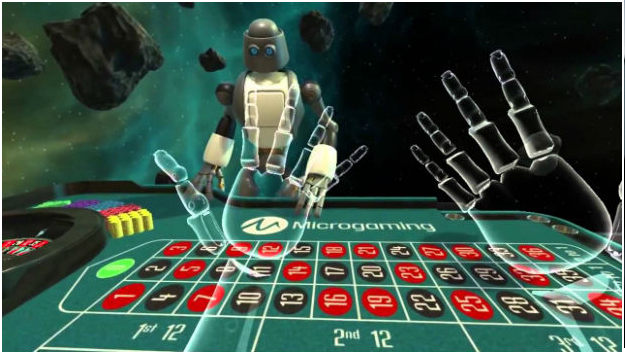 If playing online roulette is that exciting, then imagine what the capabilities of virtual reality can add to the equation. Well, imagine no more, as roulette has become one of the very first pilot games to be tested with VR.
Microgaming, the game developer showcased its innovative Virtual Roulette at the 2016 edition of ICE Totally Gaming. The product was very well received by the event's attendees and received generally positive feedback from the players, too. VR Roulette was appreciated by the industry, too – it was rewarded with the "Digital Gaming Innovation" award at the Global Gaming Awards and the "Innovator of the Year" award at the International Gaming Awards.
Where to play virtual reality casino games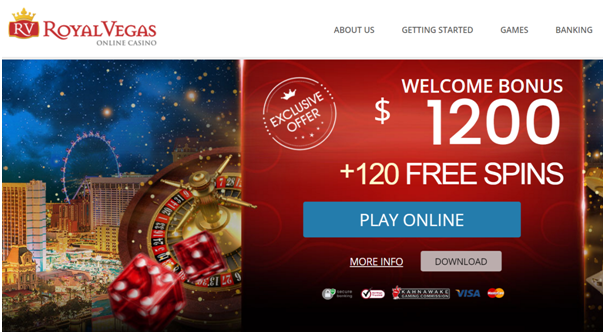 More and more online casinos will start offering virtual reality games to players soon. As of now you can enjoy these casino games at Royal Vegas Canada online casino. Royal Vegas online casino games are popular providing full entertainment and fun to players. Also with great welcome bonus and free spins offer the casino is loved by Canucks.
The virtual casinos of today are little more than collections of casual games you can play for real money. With a third dimension added to the mix, players will be able to step inside them and have an experience similar to that offered by their real world counterparts. If things go well, virtual casinos might even add social capabilities to their software, allowing users to interact inside the virtual world. Virtual casinos might soon become social hubs centered around a shared interest in real money gaming, a bit like online poker rooms are today.
So in the coming years virtual reality games will fill the games lobby at online casinos. Though still some players get some motion sickness from using virtual reality and some have problems with eye strain when they use virtual reality devices as of now but a time will come when more advanced technology regard to such games will be liked by all.  Players are going to have a much easier time when it comes to being able to fully use virtual reality technology. The people who aren't able to use it now will find it easier in the future as some of these issues are resolved.