How and where to play Klub Keno online in Canada?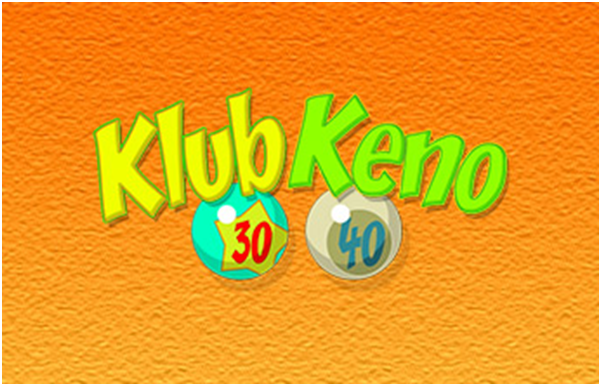 Klub Keno is a fantastic Keno game to play online. This game was developed by the popular software gaming company called Betsoft Gaming. Klub Keno offers a brilliant and dazzling game in the world of Keno. Designed with bright, vivid colours, it gives a unique take on the game with pleasing animation, sounds and fast-paced gameplay. When you start to play Klub Keno, you are greeted with a navigational friendly game board, pleasant sounds and an affordable betting range that is sure to please you.
Klub Keno from Betsoft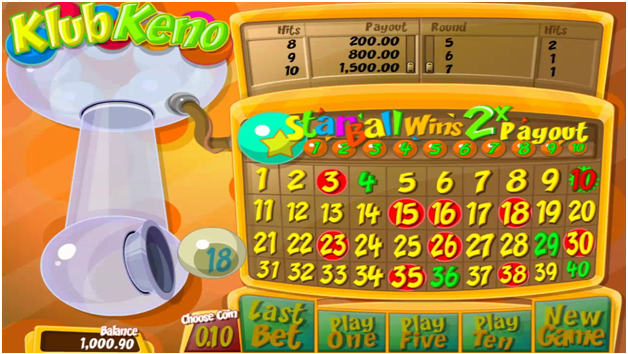 Betsoft has chosen to create its version of keno in a unique way that offers 40 board numbers versus the traditional 80. As a result, only ten balls are drawn randomly instead of the usual 20. Betsoft has dome a nice job at making its Klub Keno one that is refreshing and more enjoyable than more traditional styled keno games. The creativity in its design and execution has the player in mind, as does it low betting range, which is most affordable.
How to play Klub Keno?
You can play Klub Keno at any online casino that offers Betsoft games. After joining the online casino and doing the formality of registering yourself as a player as well as making an initial deposit, you head on to the other games section and find the game Klub Keno. Play for real money or play for free that's your choice.
Once you click on the game screen, the process to play involves three steps. First, you need to select the coin denomination, then choose the keno numbers you wish to play. Finally determine if you want to play one game, five or ten games.
Once all choices have been made, the game will begin. The nice side to this is the ball shoot has a few animated effects that shows the balls shuffling in the holder and falling down the shoot as it propels the balls towards the game board and the subsequent number drawn. The range of betting options is limited, and for those looking for larger bets, this will not be the game for you.
However, those looking for a more affordable version of keno will find it most appealing as coin denominations start at CA0.02. This amount can be increased to its maximum coin size of CA1.00, and that allows the opportunity to win up to CA15,000 if ten numbers are in play. All payout information is identified above the game board including the hits, number of rounds, and the applicable payout.
When you begin to play Klub Keno you will find that some features help to speed up the game and keep up the level of fun that this game has plenty of.
StarBall – A chance to win 2 X the original payout should the StarBall land on one of the numbers you bet on
40 Numbers – By using half of the normal 8 numbers your winning chances are increased
Last Bet – Repeat the last bet you just made including all numbers and wager amount
Auto Play – Have the game run through 5 or 10 games in a row for you using the same wager amount and numbers
Simple To Play – Fewer features mean this game is a great option for all players but mainly new player and players who don't like all the shiny things that some Keno games offer
Choose your wager amount by clicking on the dollar amount until you find the amount you are willing to bet. To choose your numbers just click directly on them. These are the numbers that will payout. You need to choose a minimum of three numbers and a maximum of 10 in order to play.
Players can choose to play One, Five or Ten games by selecting the corresponding button at the bottom of the screen. Once you select the number of games, the balls begin to drop and you can see what kind of matches you earn. To win the StarBall 2 X payout all you need to do is play as you normally would and if the StarBall lands on one of your numbers that you bet on then you win 2X the Payout.
Once the betting round(s) are over, you will get paid for any winning numbers. You can begin a new game by selecting "New Game" and choose different numbers.
Klub Keno does offer a 2x multiplier ball that other keno variations do not. While Betsoft does not include the ability to adjust the sound settings or game speed, for some, this may be a bit bothersome, but it in no way takes away from the value of this keno version.
If you opt to play multiple rounds, all games will play consecutively, and game controls will be disabled until completion of the rounds in-play. This is not a bother, as it would defeat the purpose of this option.
Rules of the Klub Keno Game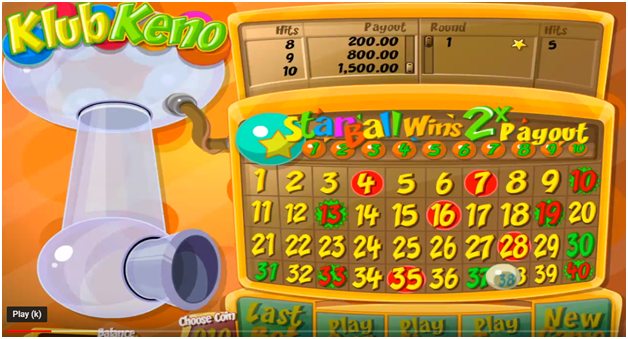 You must choose a minimum of three numbers to play for real money. As many as 10 numbers can be selected Players can choose to select one game, five games or ten. The game draws 10 numbers at random. You are paid based on how many of the numbers they match during the random draw, after the numbers are chosen. One of the 40 balls will be chosen at random as the Star Ball. If the Star Ball is drawn, and matches a player's pick, then any win is doubled.
Should you play Klub Keno?
If you are high roller then maybe you might not be interested in this version of keno as max bet is $1 only. The RTP of the game is 97.87% and is best for those who love to play Keno games. This is one of the more fun versions of Keno that you can play. The StarBall gives payers a chance at winning some huge money for just playing the game you would on any other version. This is a game that all Keno players should try. If you are already going to playing Keno then why not play a version that is going to give you 2 X the normal payout just because. Note that this Keno game may not be able to play for free at some online casinos.
Betsoft has done remarkably well with Klub Keno, and it is a refreshing version that is not only entertaining to play but offers some substantial payouts if you land all ten numbers.
Where to play Klub Keno online in Canada?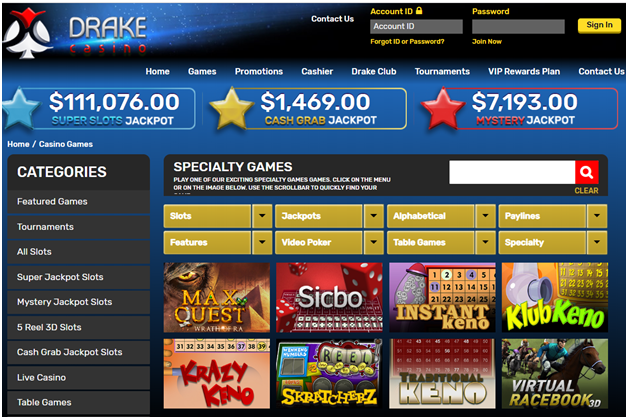 As said above you need to choose Betsoft powered online casinos to play Klub Keno in Canada. You can try your luck playing Klub Keno at Drake Casino, Mr Greens Casino, Ignition Casino, Rich Casino and few others.