How to play four card keno and how to choose Keno base numbers in the game?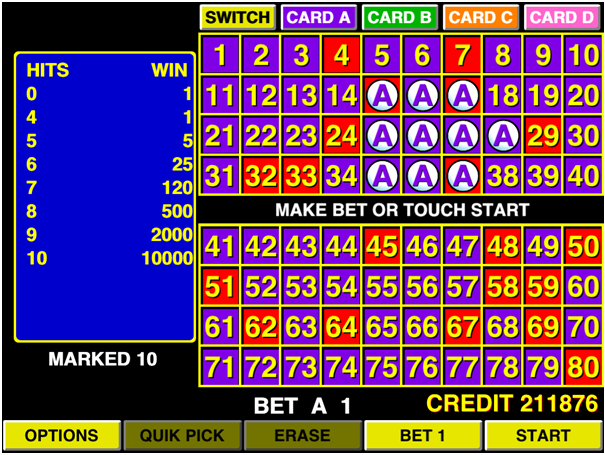 Four Card Keno is a classic casino game that is fun and easy to learn. Players select a bet amount and choose between 2 and 10 numbers on their Keno card. Numbers are then randomly drawn and appear on the keno card as they are drawn. The more numbers you pick correctly, the more you win! Just like classic keno, only you can play on four cards at the same time!
The game play of four card keno game
You need to play up to four different keno cards on the same keno game. That is, you can mark one to four cards (you don't have to play all four), picking any number of spots on each card. Then the game proceeds as in regular keno, with 20 numbers being drawn. The obvious advantage is that you can cover a lot more numbers than with one card. Equally, the disadvantage is that you're betting four cards instead of one, and the costs can mount.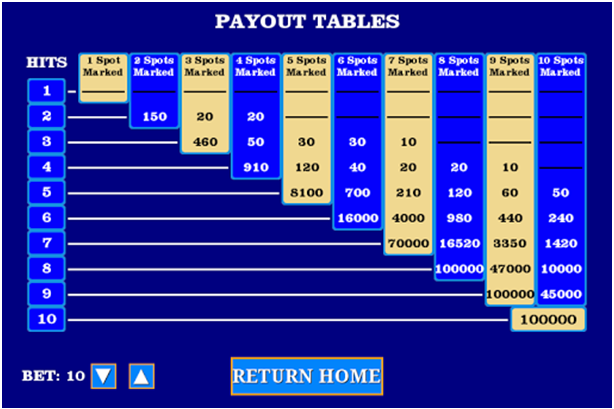 Four Card Keno is available in various denominations, from a penny up to a dollar, and even the multi-denominational machines offer the best chances to win, because you can move from one denomination to another by simply touching the screen. But note that in multi denomination machines many times, the pay tables at the penny and two-penny denomination are lower than the other pay tables.
The lower pay tables is a trend that not only plagues multi-card keno games, such as Four Card Keno and 20-Card Keno, but they are also appearing in standard or single-ticket keno games as well but always try to find games with the better pay tables. Though Four Card Keno usually gives the player a better chance to win.
Here are a couple of examples of how the game extends a player's chances: A 10-spot player often bets the entire horizontal row, which is fine. But you can get a lot more mileage out of playing two 10-spot rows on top of each other (such as the 20's and 30's rows), as well as the two 10-spot cards made up of 21-25, 36-40 numbers and the 31-35, 26-30 numbers. This way you have an overlap, in which you can sometimes hit, say two seven out of 10, or even two eight out of 10 jackpots.
You can also play two solid eight columns (vertical), such as the 3 and 4 columns, coupled with the two 8-spot cards made up of the 3, 13, 23, 33, 44, 54, 64, 74 and the 4, 14, 24, 34, 43, 53, 63, 73 numbers. Again, you have overlap, opening the possibility of "doubling up" on a six out of eight or even seven out of eight jackpot.
These are just a few examples, and you should experiment with your own favorite patterns whether they're boxes, lines or just random numbers.
The base number in Four Card Keno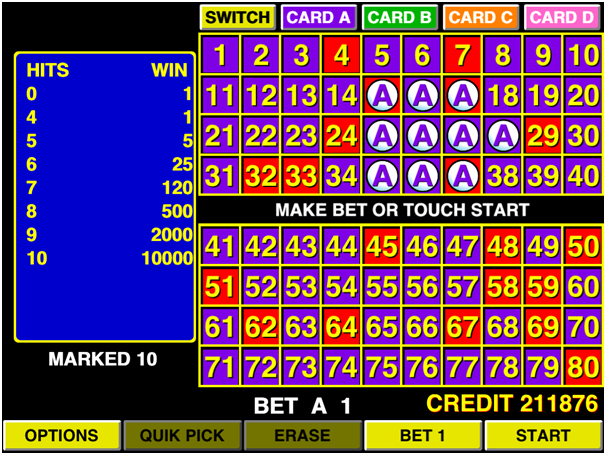 In Four Card Keno, the more numbers from which you chose the more inclined that you are to win something. However the less numbers that you select the larger the top prize will be when you do win. Therefore the best way will likely be a blend of picking more numbers and having as many of those numbers overlap as possible. So utilize a base number to help make that happen.
A base number is greater than your target spot. In case your target is a 5 spot, then your base number might consist of 7 numbers which will be reduced to play 5 spots with the 4 different cards. The trick would be to overlap the keno base numbers within a nicely balanced mode supplying you with exposure to a lot more possibilities and at the same time increase the amount of your winnings by winning on more than one card.
Regarding choosing your base numbers, that is entirely up to you. You may use whichever numbers you seem lucky for you , date of birth, ages of your friends, whichever numbers you intend to employ. So, conceptually, your base numbers are a group of numbers that is one or two numbers larger than the spot that you're going for.
Where to play four card Keno?
Four card Keno is available to play at online casinos. Also there are many four card Keno apps to play for free and practice the game even on your mobile.