How to play Keno at Casino.Com Canadian online casino?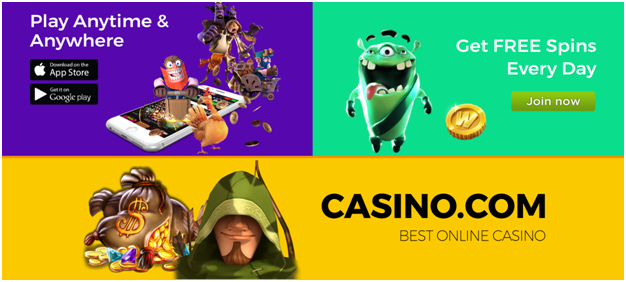 Casino.com is one of the prominent online Canadian friendly casino that offers Keno game to play with real CAD. To play Keno at Casino.com all you need is to pick your gaming device be it cell phone or PC or tablet and type the casino url on the web or mobile browser and hit enter to visit the casino homepage. Next join the casino by registering yourself and make a real money deposit in CAD$10 and begin to play. Remember that casino.com offers both real money as well as free Keno game to play which costs no money if you want to practice the game and have just fun.
Where to find Keno at Casino.com?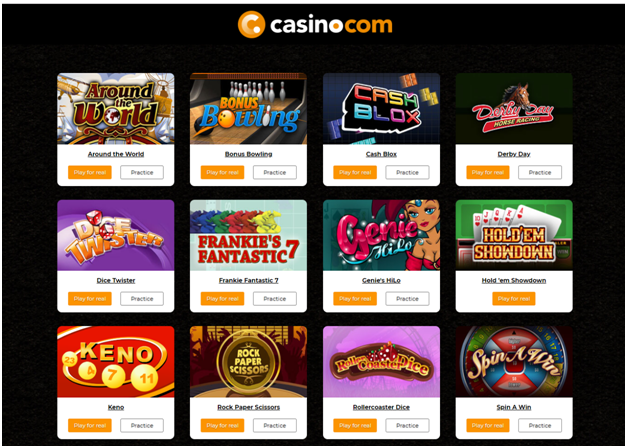 Casino.com offers over 300 casino games that you can enjoy either with play on download, flash or mobile games software for fun and for real money. These games includes a variety of classic favorites including online Roulette, online Blackjack, and video poker games, as well as a huge number of online Slots all of which offer progressive jackpot games. So finding Keno game specially becomes a bit tricky when you land at the casino.
What you need to do therefore is either type KENO on the search bar given on the right hand side of the homepage where slots and casino games are listed and you will locate Keno game at once.
Other option is to simply go to arcade games in the Games Menu and find keno game to play.
How to play Keno at Casino.com?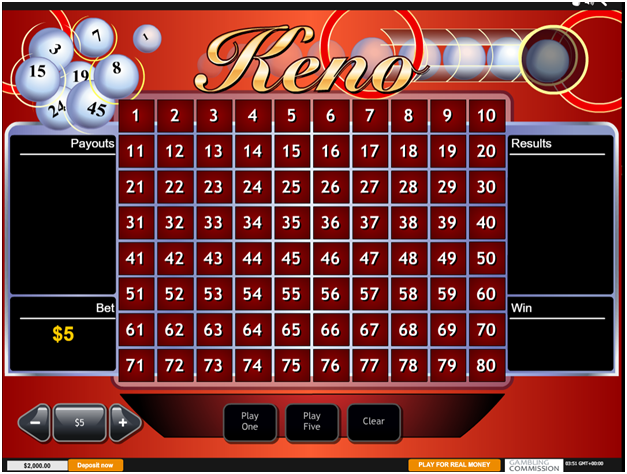 Now that you have found the game, click on the game icon.
You will be prompted to play for reel or for practice
Select your choice and begin
If playing for real make a deposit of atleast $10 at the cashier or at the banking page.
You can choose from any of the friendly deposit options you want and fund your casino account
Your account balance will show up the amount deposited. It may take time according to the method of deposit choosen.
Now grab the awesome welcome bonus of CA$400 plus 200 free spins
Click on play now on the Keno screen and begin
Keno game offered at Casino.com is powered by Playtech
The minimum bet of the game is $0.02 and high bet is $10 so bet according your budget.
Now make a choice to play one game with the selected numbers or Play five games in a row.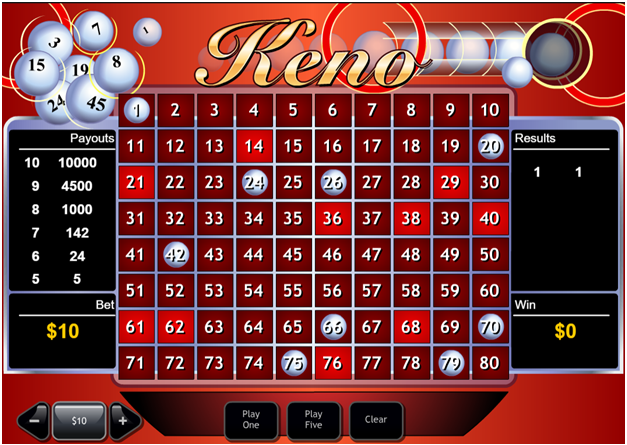 Select at least 2 and up to 10 numbers on the Keno table by clicking on them. If you changed your mind and want to deselect a number, just click on it again. To deselect all the numbers and start again, click on the Clear button.
While you select the numbers, you can see the Payouts Table on the left. The payouts (winnings) depend on how many numbers you select. The table shows how much money you win (the Payouts column) for any amount of correct numbers (the Hits column).
Now select the amount you want to bet on one game round by clicking the + and – buttons. Then press Play One (play for one round only) or Play Five (play a five-round series).
When you press one of the Play buttons, 20 numbers are drawn. If you have a sufficient amount of hits (winning numbers) you are paid winnings according to the winnings table. If you are playing the five-round series, you can see your last results in the results table on the right. If you are playing a one-round game, only the result or your last round is displayed here.
The theoretical percentage return to player (RTP) in Keno depends on how many numbers are picked. All the 10 numbers picked offers RTP of 92.55%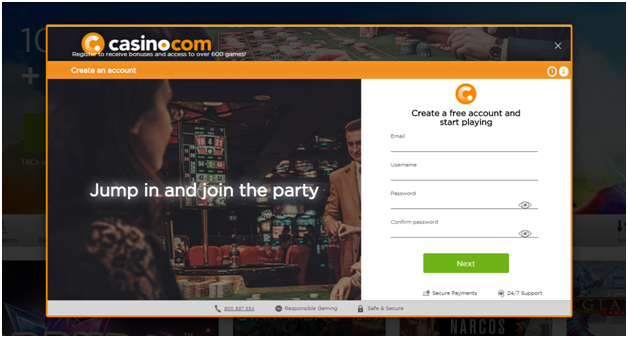 Remember that the online Keno board is a grid of 80 numbers arranged in columns and in order for easy reference. To begin playing, choose a wager amount. This can be altered by pressing on the plus and minus signs to either side of the amount window. Once you've done this, you can select your Keno numbers. There are a possible ten slots to fill, but you do not have to choose all ten if you don't want to. The advantage of choosing more numbers is that the winning values grow as you select more digits. It is also easier to get more matches with more numbers on the board.
If you selected Play One, the Keno balls will come flying out of the tube and onto the grid in fast succession. You can quickly see how many matches you've made by looking on the grid or by watching the results board to the right of the screen. At the end of the round, you will be paid according to the pay chart on the left of the screen.
How to play Keno at Casino.Com Canadian online casino?

,