How to play Keno and Keno Bonus in British Columbia Canada?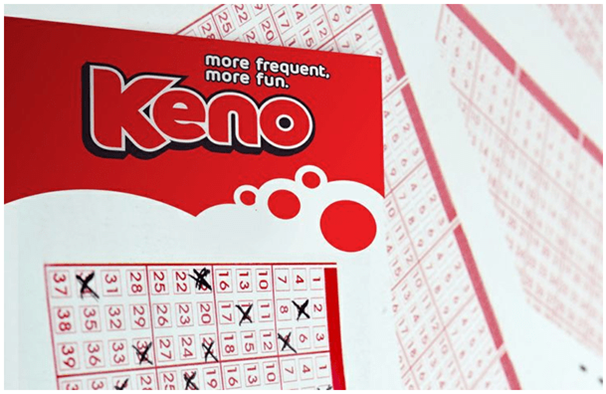 British Lottery Corporation or BCLC offers Keno and Keno Bonus game to be played every 3.30 minutes. This is a fast paced Keno game and easy to play which can fetch you a win of CA$200,000 cash prize.
To play Keno and Keno Bonus all you need is to first get the ticket. For that you need to buy it from either nearest lottery retailer, at any local bar  or pub in the province of British Columbia Canada. Also you can play to buy this ticket online at playnow.com official lottery site of Canada. The Keno and Keno bonus draw takes place every 3.30 minutes but  note that there are no draws in Tuesday through Sunday from 4:00 a.m. to 4:50 a.m. and on Monday from 4:00 a.m. to 6:05 a.m.
How to play Keno and Keno Bonus?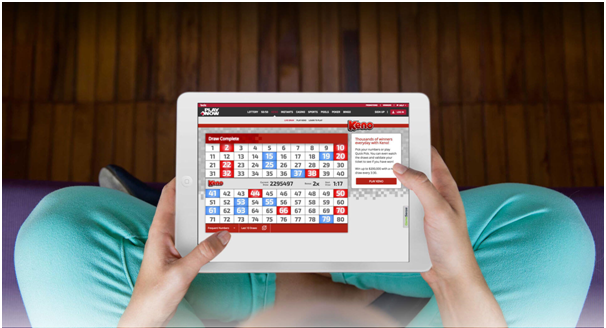 You can buy the lotto Keno and Keno bonus ticket of $1, $2, $5 or $10 per draw
Say "Yes" to the Keno Bonus for the chance to multiply your winnings by 1.5, 2, 5, 7, or 10 times. When you add Keno Bonus, the cost of your ticket doubles. The maximum ticket cost is $200 when playing Keno
Once you have got the Keno and Keno Bonus tickets now the next step is to choose numbers between 1-80 you want to play per draw (up to 10).
You can select the numbers yourself or choose a Quick Pick.
Then decide how many consecutive plays (up to 99)
20 numbers are drawn and if your numbers match the drawn numbers you win. When a drawn number is not a match, it will outline in red. If you have a match, the numbers will highlight red
You can choose Keno pattern play. For that you can  match patterns instead but this is available only in retail ticket play.
Notice the prize table update to show the potential winnings of your selection
You can buy Keno tickets online at PlayNow.com and win prizes up to $200,000!
The maximum prize that can be won on any one Keno ticket, not including Keno Bonus, is $200,000, regardless of the amount wagered. The maximum combined liability for a given draw is $2 million. If you've won a prize of $2,000 or more, the earliest you can claim your prize is the day after the draw.
The maximum prize that can be won on a Keno ticket with Keno Bonus for any given draw is 10 times the value of the Keno prize. If you've won a prize of $2,000 or more, the earliest you can claim your prize is the day after the draw.
How to win Keno Bonus?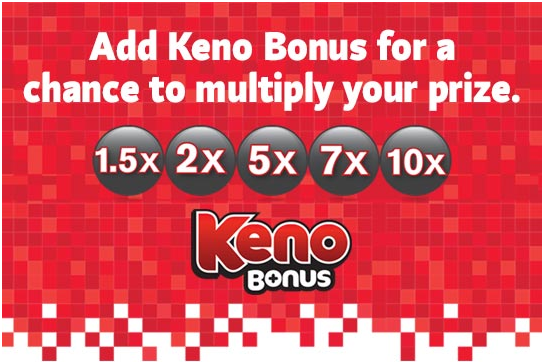 The Keno Bonus draw occurs right before each 3:30 minute Keno draw. If you have added the Keno Bonus, the multiplier revealed will multiply your Keno winnings by 1.5, 2, 5, 7, or 10 times.
Match your Keno number to the numbers drawn to see if you're a winner. Your prize will depend on how many numbers you picked and how many numbers you matched. If you've won, select Validate Ticket to deposit winnings into your PlayNow account.
Match your 40 Keno Pattern Play numbers to the numbers drawn to see if you win.
Claim the prize if you win Keno lottery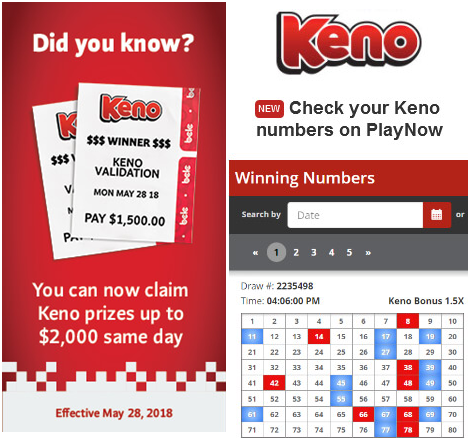 Before you go to claim your prize you need to sign the front of the ticket and completely fill out the back of the original winning ticket (including name, address, and telephone number). Ensure that a daytime telephone number is included as the Player Services department may need to contact you for further information.
Also make copies of the front and back of the ticket for your records.
You must also include a copy of valid, government-issued, photo identification (e.g. Driver's Licence or BCID) along with the original ticket. In order to protect your privacy, BCLC recommends that when sending ID black out any identifying numbers (eg. Driver's Licence Number). Also highly recommend covering any personal information that is not required for the claiming process, including your height, weight, eye and hair colour.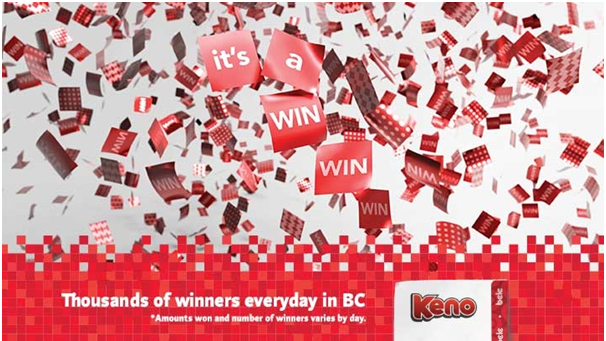 There are many ways to get your cash prizes if you win the Keno lottery.
Get prizes up to $200 to $2000 at lottery retailer in BC. Most retailers do not keep large sums of cash on hand for security reasons, Casino's and CGC's may be a better option as they will generally have cash available to pay lottery prize claims between $200 and $2,000. Also Lotto Express retailers are unable to pay prizes of any value.
There are regional Prize Payout locations where prizes up to $9,999.99 can be claimed. You need to have a valid government issued ID is required when claiming a prize.
Claim a prize at a Casino location
Voluntary Self Excluded (VSE) winners can claim their lottery prizes at one of the two Signature Stores, a BCLC Corporate Office or by via the mail. Prizes of any amount can be claimed at a BCLC Corporate Office. If claiming at BCLC, all prizes are made payable by cheque. Only claims greater than $25 Million will be paid via wire transfer. You can call BCLC Customer Support at 1-866-815-0222 for more information.
You may claim your prize by mailing your ticket to the Kamloops Player Services office at the BCLC P.O. Box 1080 Kamloops, BC V2C 6H2 Or at BCLC Marketing & Sales Office 2940 Virtual Way Vancouver, BC V5M 0A6