How to Play Keno with Instadebit at Canadian Online Casinos?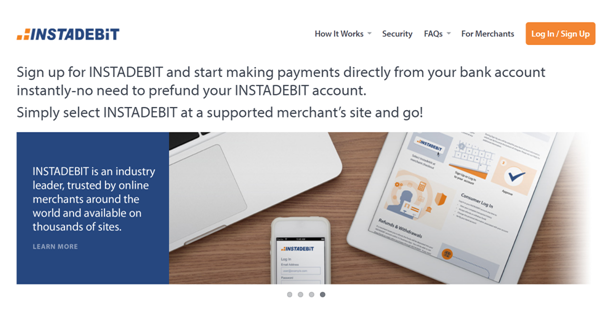 When it comes to banking at the casino Canadians always want an easy, instant and hassle free deposit options to enjoy Keno or slots at online casinos. Among the various payment options listed in the online casino's banking page, you will find Instadebit as one of the options.
What is InstaDebit?
It is a secure online payment method that works in the same way as writing a check or using a debit card. It can be used to make instant payments at all of the best online Casinos provided that you have a Canadian bank account.
Unlike an e-wallet, funds cannot be held in your InstaDebit account, but instead it instantly transfers the payments for you, whether into or out of your bank account. To pay using InstaDebit you will simply need to select the correct payment option at an online Casino and then confirm for InstaDebit to carry out the transaction. You bank account details will be held securely by InstaDebit so you will never need to hand over your personal information directly to the Casino.
Benefits of InstaDebit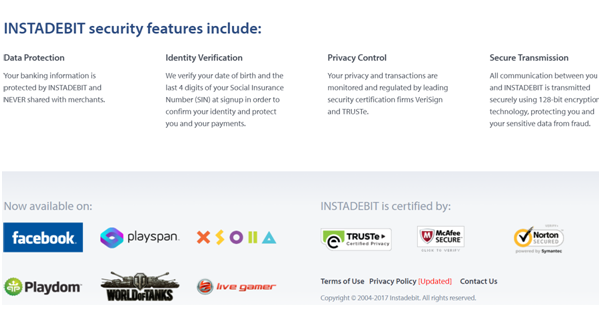 InstaDebit is easy to use and it takes only a few minutes to get setup and transfer funds.
InstaDebit is completely free to players as it is the online Casino that pays any transaction costs.
No waste of time a you can begin using your InstaDebit account from the moment you sign up.
Also the sign up is completely free and there's no fee required.
You won't need a credit or debit card as InstaDebit transfers the payments directly from your bank account.
InstaDebit allows you to view your past transactions online.
InstaDebit has a helpful Customer Support service, available 24/7.
Also the online casinos that accept online payments from you have no access to your personal information and the system is 100% confidential and your privacy is maintained.
You can only use the funds you have transferred and there's no credit facility, so you can manage your bankroll with ease and keep tabs on your finances. There's no chance of overspending, making InstaDebit ideal for Canadians who are wise enough to stick to their bankrolls.
Winnings are directly paid into your bank account.
How to Deposit with Instadebit?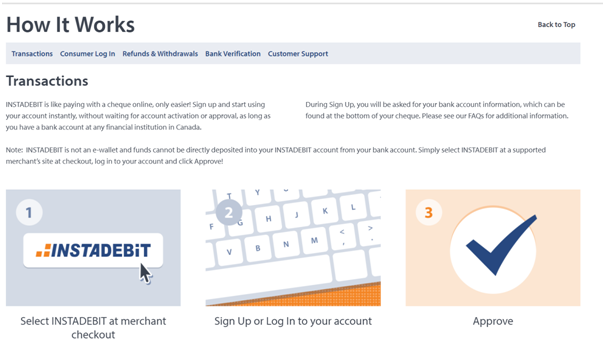 Depositing at an online casino with Instadebit is a hassle-free and easy process. You are required to sign up for an account to be able to use this payment method. This process will involve providing some personal information, such as your first and last name, email address and contact number. Moreover, you will also need to give the details of the bank or financial institution that will fund your Instadebit payments.
When it comes to signing up for an Instadebit account, it won't cost you a penny and will take only a few minutes. Once your authorization is completed, a confirmation email is sent validating the source of funding. This indicates that you can now make deposits at your favorite online casinos.
Login to the online casino that provides Instadebit deposit option for players
Go to the banking or deposit page, and select Instadebit as your preferred payment method for deposits.
Log into your Instadebit account once a pop-up window appears by entering your password and username.
Once you are logged in, enter the amount of money you are looking to deposit and confirm the payment details.
Approve the deposit and your transaction will enter processing.
How to Withdraw with Instadebit?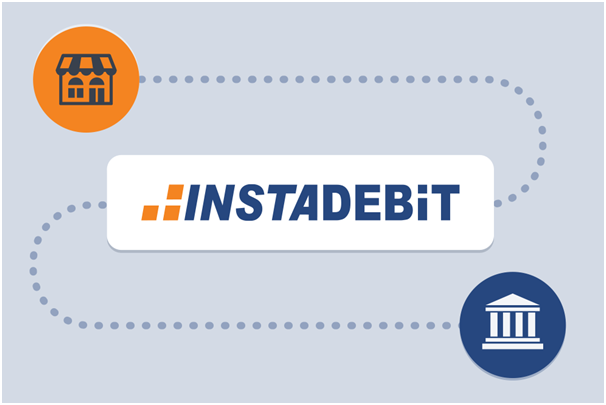 As Instadebit can also be used for withdrawals, it eliminates the need for players to select a separate withdrawal method specifically for cashing out winnings. The withdrawal process is simple and involves the following steps:
Go the withdrawal page, and select Instadebit as your preferred payment method for withdrawals.
Enter your username and password for the Instadebit account.
Add the amount you want to withdrawal.
Hit the approve withdrawal button and receive your cash within 24 hours
Keno at Canadian online casinos that accept Instadebit
There are many Canadian friendly online casinos that accept Instadebit and you can play keno games here. Following are the few examples.
Jackpot City allows both deposit and withdraws with Instadebit. Once you register yourself at the casino you get wonderful C$1600 all free. That means casino will give you 100% back on your first 4 deposits – That is a total of 1600 Free!
There are not one but two welcome bonuses to grab when you sign up at the casino for the first time. You get 100% up to $200 instant Welcome Bonus. Minimum deposit is CA$20 and you can deposit with Instadebit as well as withdraw with the same mode.
You get CA$1200 FREE on your first four deposits. The minimum range of deposit is from CA$5 to CA$20 and minimum withdraw limit is CA$50 with Instadebit.
Ruby Fortune boosts of generous welcome bonus, up to CA$750 in three deposits. CA$20 is minimum deposit to get started at the casino with Instadebit.
The Canadians have special offer if they deposit with Instadebit as the casino offers 10% Extra Bonus. The best here is awesome welcome bonus which is CA$1000 all free. The welcome bonus comes in three deposit match bonus. You get 100% Match Bonus of up to CA$400 on your first deposit. On your second and third deposit you are offered 100% Match Bonuses up to CA$300
Instadebit is undoubtedly the best e-wallet option currently available. Not only does it provide fast and secure transactions, but also deposits and withdrawals can be made smoothly and instantly.
You can register for an Instadebit account in minutes and begin banking in no time at all. The best part is you can make payments directly from your bank account, meaning you do not have to wait days or weeks for your money to be transferred. Since the payment method is specially designed for casinos, players can benefit from instant betting and gambling when playing a variety of online casino games. The e-wallet also has an impressive history of partnerships with almost every Canadian casino so you do not have to worry about its smooth and secure transaction.