How to play Lucky Lily Keno online in Quebec Canada?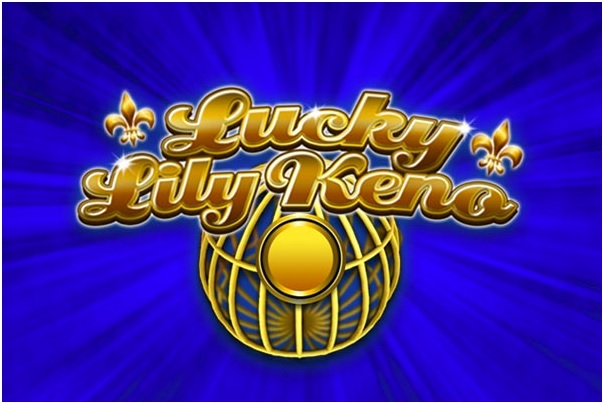 Lucky Lily Keno is a new Keno game now being offered at all of the online Canadian Casinos. All the real brand Quebec casinos are available on internet to play online casino games.
Lucky lily keno is offered online by Casino de Montréal, Casino de Charlevoix, Casino du Lac-Leamy, Casino de Mont‑Tremblant and Casinos du Québec.
You can play this game for real money or play for fun with your mobile or PC.
In this Keno game you need to choose at least 2 numbers and at most 10 numbers from 80 available. When the game is launched, 5 randomly chosen numbers are identified bya lily flower. If these 5 numbers are part of your selection, your winnings could be multiplied up to 16 x! Get 6 out of 6; 7 out of 7; 7 or 8 out of 8; 8 or 9 out of 9; or 8, 9 or 10 out of 10 and play the bonus game.
About Lucky Lily Keno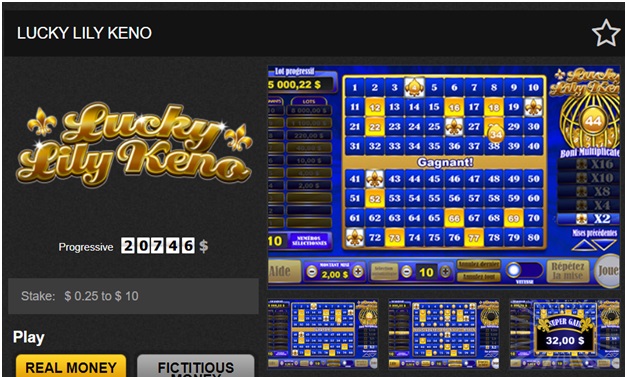 The game is a standard Keno game, in that the player picks between 2 and 10 numbers, and then 20 numbers are drawn. Paytable prizes are awarded depending on how many picked numbers are drawn out.
Additional for this game is that in each draw, five of the numbers not picked by the player are randomly designated as 'lucky lily numbers'. If numbers drawn are lucky lily numbers they have the effect of multiplying any paytable prize (note, the jackpot does not get multiplied) in the following way:
1 Lucky Number – multiply times 2
2 Lucky Number – multiply times 4
3 Lucky Number – multiply times 8
4 Lucky Number – multiply times 10
5 Lucky Number – multiply times 16.
Lucky Numbers can be any of the numbers not picked and can be any of the numbers drawn.
Each number of picks has its own paytable.
Jackpot in the game
The jackpot is a standard lottery ticket system, but is also linked to the number of picks a player makes and hits. When a player is going to hit aqualifying number of their picks, i.e. 6 of 6, 8 of 8, 8 of 9, 9 of 9, 10 of 10, etc then they win the paytable prize.
The game allows 2 to 10 numbers to be picked, from 80 possible numbers. 20 number are drawn regardless of how many numbers are picked. The paytable changes depending on how many numbers are picked.
How to play Lucky Lily Keno in Canada?
All you need is to pick your gaming device be it mobile or PC to play Lucky Lily Keno online
Now type the casino URL https://casinos.lotoquebec.com/en/ or https://www.espacejeux.com/fr/casino on your web or mobile browser to visit the online site at once.
On the casino homepage you will find 'Register' button on the top right hand corner of the page.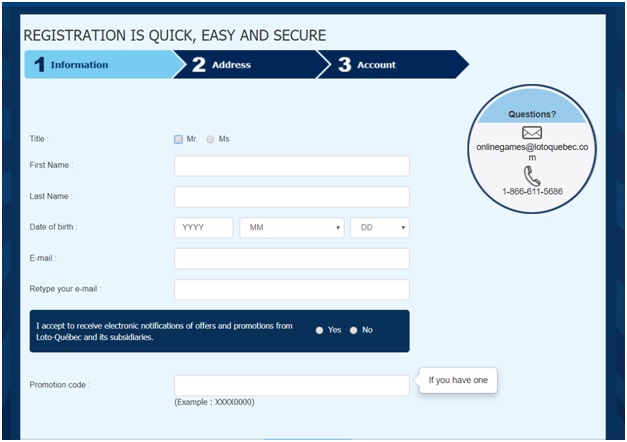 When you click on Register you will get a three step form to fill with your name, email, DOB, Postal code, Address and phone number. Then set a user name and password for your login at this online casino.
You have to be a resident of Quebec and at least 18 years of age to play online Keno here.
First choose the amount to bet by pressing the + or – of the bet window. The stake starts at $0.25 cents to $10 CAD.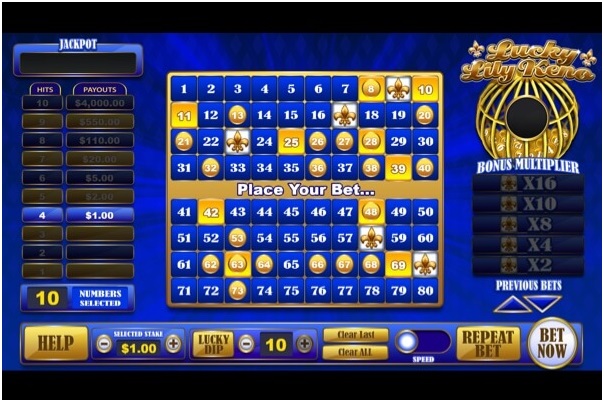 Then choose the desired numbers.
Select 6 or more numbers to activate the jackpot bonus game.
Get 6 of 6, 7 of 7, 7 or 8 of 8, 8 or 9 of 9 and 8, 9 or 10 of 10 and play the bonus jackpot game. The numbers are drawn randomly.
The higher the number of your drawn numbers, the higher the gain.
If one or more of your Lucky Lily numbers are drawn, the corresponding multiplier will apply to your winnings (excluding the winning bonus jackpot game) up to a multiplier of 16 times.
The progressive jackpot can only be won by one player at a time. The progressive jackpot value is displayed at the top of the screen.
This progressive jackpot is only available in real money and a percentage of the stake is used to finance the progressive jackpot.
When the progressive jackpot is won, it is restored to its initial value. In the event that a communication error occurs after a progressive prize has been won but before the notification message is displayed on the screen, the amount of the winning prize will be automatically transferred to the player's account.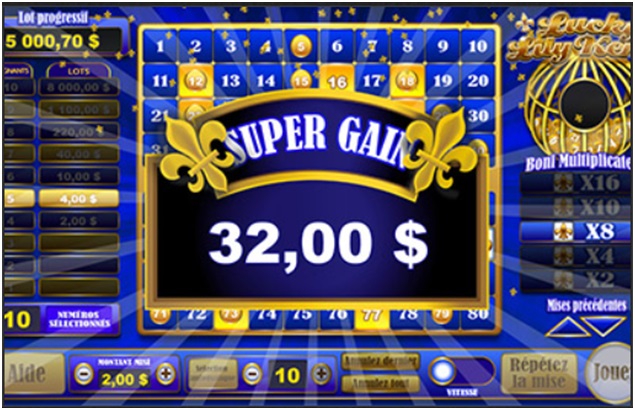 The progressive jackpot cannot be withdrawn while the game is available.
If the game is to be withdrawn, the players' contribution to the progressive jackpot will be transferred to another progressive jackpot.
The theoretical return rate of this game is between 81.86% and 93.52%; also it depends on the number of numbers chosen. The theoretical long-term payout rate represents the expected payout rate from the game and has been calculated by an independent testing laboratory. Any defect cancels games and payments.
Developed in collaboration with The Games Company, Lucky Lily game was released by Pixiu in collaboration with Loto-Québec in 2018. Incorporating Québec's floral emblem, Lucky Lily has been designed specifically for Québec's interactive lottery players. Complementing LQ's land-based casino Keno, the game includes a progressive jackpot and a 5 Lucky Lilies prize at every draw, offering players multipliers of up to 16 times their bet. The jackpot currently stands at over $57,000.