New Amaterasu Keno to Play Now at Casinos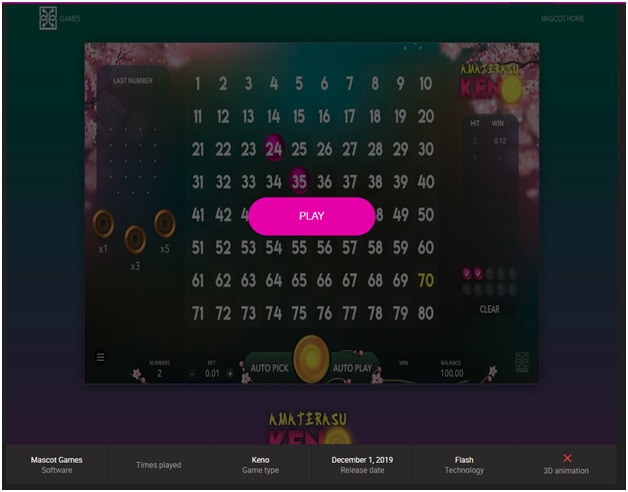 Amaterasu Keno is a brand new Keno game by Mascot Gaming. This keno game is a mix of the classic numbers game of Keno with the colourful Japanese culture. The Amaterasu Keno game offers players a chance to enjoy the popular game in a beautiful and highly appealing gameplay surrounding.
How to play Amaterasu Keno?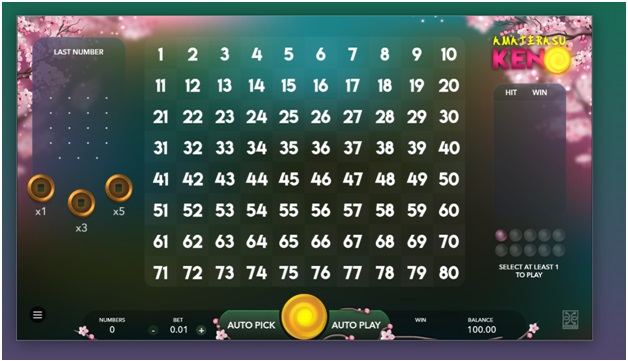 To play Amaterasu Keno you need to join any online friendly casino. You can opt to play free Amaterasu Keno game or play for real money that's your choice. This game has a convenient interface in the "book" format you can even enjoy with mobile devices.
You can place your bet as low as $0.01 and high as $5.00 in this game.
With Lucky Number feature in this game, 3 random numbers are selected by the game and enable a total win multiplier up to x10!
Also, it has a Free Games feature. Free games can be won by the player according to the Last Number rule.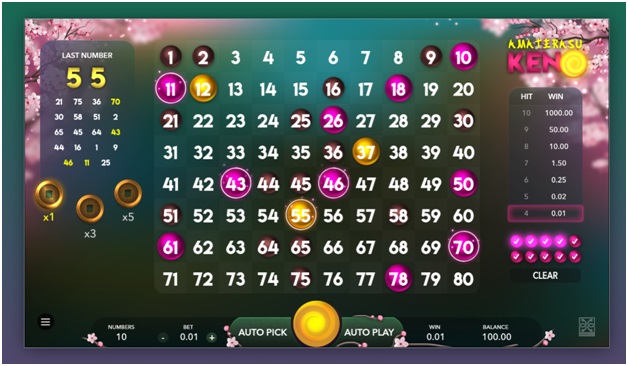 Amaterasu Keno is a number game with a win multiplier defined according to the rules of lucky number feature and free games feature. The goal of each game round is to get a winning combination, which is the largest number of Hits from the player chose from 1 to 10 numbers with 20m numbers that will be drawn in the current game round.
In the lucky number feature if there is a winning combination and in case of Hit of 1,2, or 3lucky numbers the multiplier is applied to the total win as X1, X3 or X5 for the main game and X2, X6 and X10 for free games.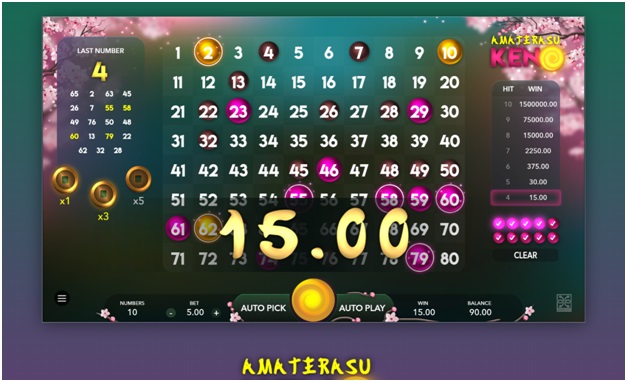 So combinations payout values are calculated based on how many numbers are selected the number of hits and the size of the current bet. All payments are made in accordance with the paytable located on the game screen.
In Amaterasu Keno, free games feature the hit of the last 20 drawn numbers with any player's number award 5 free games. Free games play automatically at the bet and with the player's same numbers at which they were won. Additional free games can be won in the current free games series.
Founded in 2010 and based in Europe's gaming heaven, Malta, Mascot Gaming was born as the result of two fellow coders deciding to create their own online casino from scratch. Today, nine years after the fact, Mascot Gaming is so much more than that as the studio develops its very own unique games as well as games for numerous other companies within the online casino industry. As the years go by, Mascot Gaming is becoming an even greater player in the industry as a whole.
Now join Mascot powered online casino to enjoy this new Keno game.