What is Keno Cash and Where to Play in Canada?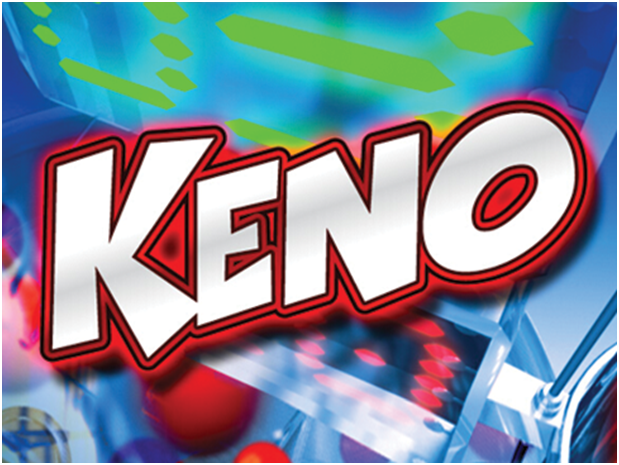 Keno Cash is new Instant game launched by OLG for Canadians to enjoy with their mobile or PC online. This instant game of Keno is a fun filled game of chance where you can see bright golden balls  zipping through suction tubes with fantastic animated graphics and sound effects.  All you need is to predict the 1-15 numbers you think will be drawn. The payout amounts on the Paytable adjust according to the amount of numbers selected and the stake amount. Prizes are awarded based on the corresponding paytable at time of purchase.
How to play Keno Cash?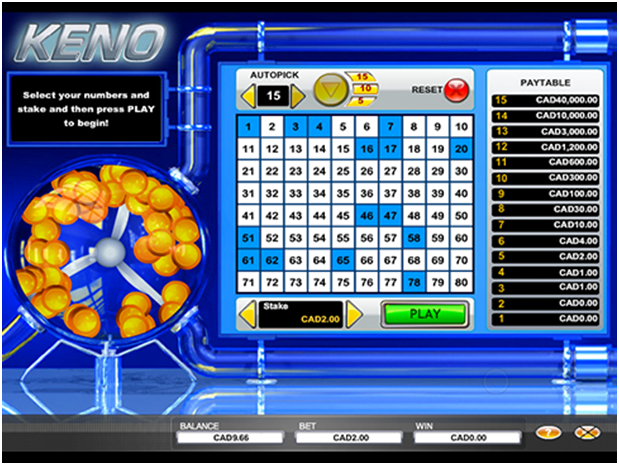 To play Keno Cash Instant Game online you need to first register yourself and open your casino account at Play OLG
You must be 18 years of age and be currently within Ontario to access PlayOLG.
You can play Keno cash for fun without making any deposit or play with real money that is your choice.
To play with real money, you'll be guided through a few easy steps: Register, set your Weekly Deposit Limit, make a deposit and you're off.
To make a deposit or withdrawal, click the Cashier tab. After you log in, look for it in the top right-hand corner.
Once you've set your Weekly Deposit Limit (this is the amount of money that you can deposit on a weekly basis. The purpose of this pre‑set Limit is to help you stay within a budget that is manageable for you. Setting this Limit is required for all players and is part of the registration process.  ); you're ready to play. But first you must make a deposit into your PlayOLG account using Visa Debit, Visa Credit, MasterCard, Debit MasterCard or INTERAC Online payment.
Your deposit is processed on the spot, so you can get gaming. If you do have any questions, you can always contact Player Support.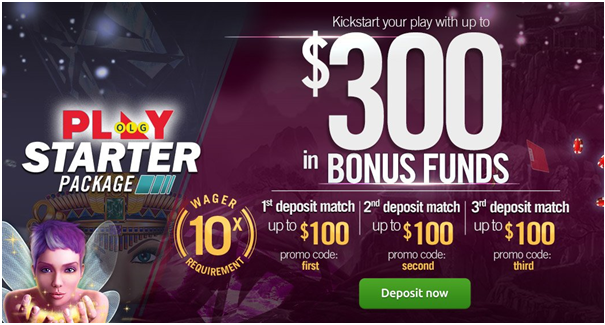 Now collect $300 in bonus funds to play Keno Cash. You make your first deposit and get up to $100 match bonus. Use promo Code: first
Now go to games lobby and go to Instant Games
Choose now Keno Cash to play
As said above play for free or with real money.
If you play for real money select your stake using the left and right arrows next to the stake window.
The maximum and minimum bet in the game depends on the selected stake. If you set this setting to its maximum value, you get the maximum stake, and if you set it to its minimum value you get the minimum bet. The Minimum bet to  play Keno Cash is  CAD$1.00 and Maximum bet is CAD $250.00
Choose your draw numbers, either by clicking on the relevant numbers on the main board, or by using the autopick function. For autopick, select the amount of numbers you require, then click AUTOPICK to select your numbers randomly.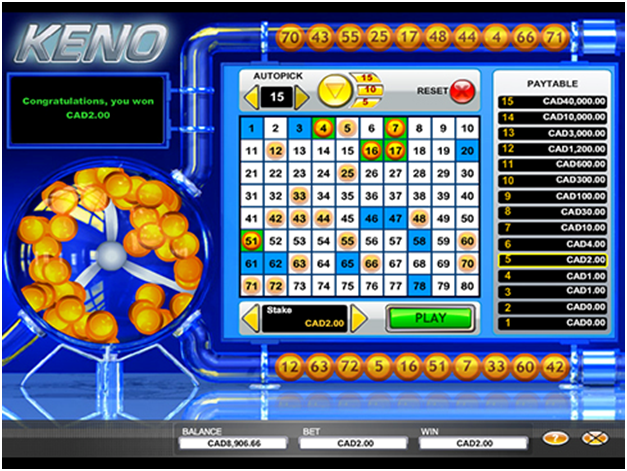 Click PLAY to start the draw.
When the draw starts 20 balls roll out of the ball drum, one after the other, eventually coming to a halt to display the numbers. Winning numbers are highlighted, and the result shown in the payout table. Once the game draw if over, the winning amount will be highlighted, informing you how you've done.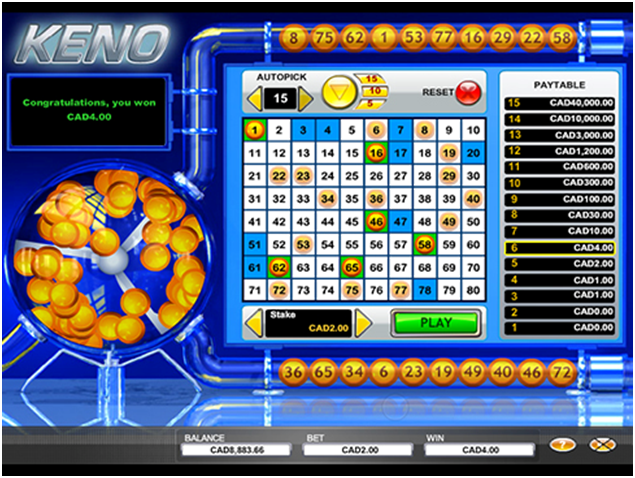 Click PLAY to play again with the same numbers and stake amount. Change your bet by clicking RESET to clear the number board, then select your new numbers.
The payout varies depending on how many numbers you have chosen and depending on how many of them that are matched in the draw. The payout also depends on how much you have wagered (X is the total bet). Prizes are awarded based on the corresponding paytable at time of purchase.
The return to player varies depending on the type of bet and the combination of bets you place. On 15 Numbers Played RTP is 94.3%
The result of a completed game may be viewed in My History by waiting at least three minutes after closing the game window. Results of unfinished games are not displayed in My History.
How to get your wins when playing Keno Cash?
If you win Keno Cash then withdrawals from your PlayOLG account are made through Electronic Funds Transfer and are deposited directly into your bank account within 3-5 business days. To ensure that your withdrawals are quick and secure, you must first register your bank account. To do this, you'll need to submit banking documents to PlayOLG for verification. There are verified within 24 hours.
You need to submit a recent original bank statement that has been downloaded from your bank's website and has not been altered or copied.  It needs to include the bank institution, transit and account numbers as well as your name and address. Your name and address will have to match your PlayOLG account details.
Or a picture, copy or downloaded electronic version of a void cheque and a recent, original utility bill (or similar) that has been downloaded or emailed to you from the provider.
Or a copy of a void cheque that includes your name and address or a secure, downloaded electronic direct deposit form or a copy of one that's been stamped and dated by your bank.
You can contact the customer support any time 24/7 by live chat, email or phone 1-855-978-PLAY (7529).