Would you Love to Play Keno Games Even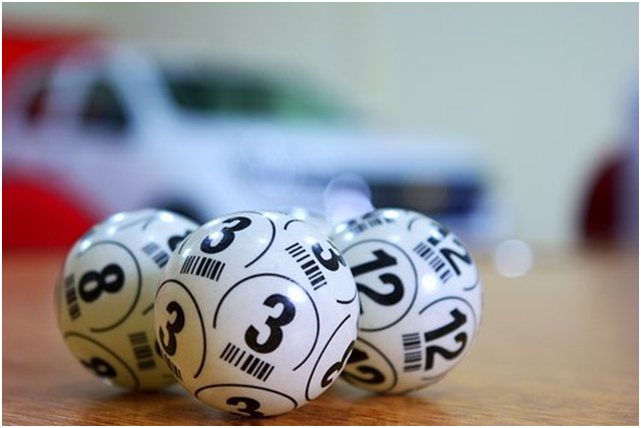 No Doubt Keno is widely played in Canada as a lottery game or keno scratchies but when it comes to playing Keno at online Canadian casinos then very few punters love to play Keno at casinos. In a recent survey, it was found that Keno games at online casinos are not the first choice of Canucks when compared to slot machines. Slot machines are glamorous and beautifully designed with awesome graphics and with wonderful musical notes played in the background lure the punters towards them. Many of the multi-game slot/video poker machines also have Keno options.
Video Keno Vs Paper Keno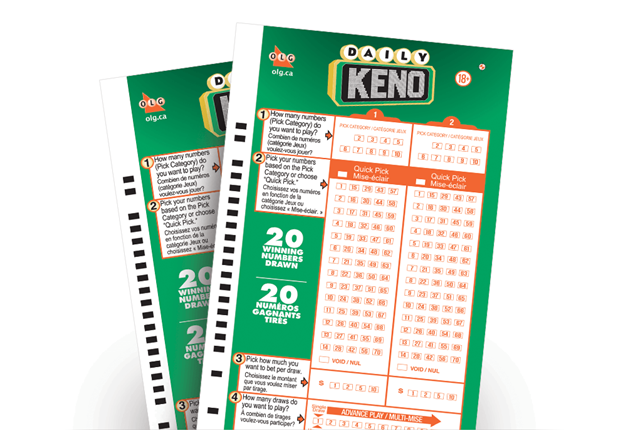 Paper Keno is the Keno tickets that you purchase from your nearest lotto retailer in Canada to play Keno as a lottery game. Whereas Video Keno is the type of keno found at online casinos that work as slot machines.
Regular or Paper keno or live keno moves at the rate of about 12 games an hour. It can't be played faster, because of the time it takes to write up tickets and the time needed for all of the keno runners to complete their rounds.
With video keno, you can set your own pace, but you can expect to play up to 10 to 12 games per minute. Also, the more games you play, the more chances you have of winning.
Video keno games are laid out much like a paper keno ticket, with 10 columns and eight rows displaying numbers 1 through 80.
The numbers you select and the numbers picked by the machine are indicated on this screen.
The current versions of video keno have only one screen, comparable to the lower screen of the older two-screen versions.
The payoffs are displayed when you touch the box marked "paytables."
Video keno payoffs will vary from casino to casino and sometimes from machine to machine, so it's always a good idea to be sure you're playing a machine that will give you the maximum payoff for your coins.
Some machines have interesting sound effects followed by a loud ringing sound when a jackpot is hit. This is to call attention to the fact that someone has won and to encourage others to play.
Video keno is very easy to play. The machines come in virtually all denominations, from 1¢ to $1 a game. Plus there are multi-card games, such as Four Card Keno and 20-Card Keno, which can vastly increase your chances of hitting, though your investment is going to be substantially higher, assuming you bet max on all the cards.
In recent years, manufacturers have added features to standard keno games, such as bonus numbers and other ways to win jackpots. These are usually fun to play, but oftentimes the paytables are slightly less than standard games.
You may pick from one to 10 numbers on most machines. Now you're ready to play: Press the "start" button. The computer will pick 20 numbers at random and they will light up. Hopefully, the numbers you picked will be among those 20.
After each game you may continue with the same numbers or erase them and choose new ones.
In addition to individual keno machines, there are machines that are linked together to offer a progressive payoff. These take a portion of the money played on each machine and add it to a progressive jackpot. To win the progressive jackpot, you must play the maximum number of coins and mark the required number of spots. I have seen progressives for eight, nine and ten spots.
Some critics believe video keno doesn't compare favorably to the highly popular video poker. Admittedly, the payback percentage on keno machines (about 92 percent) might be lower than most poker machines, but that merely translates to a higher "breakage" factor, which means you probably need a larger bankroll to play video keno than video poker.
Odds of winning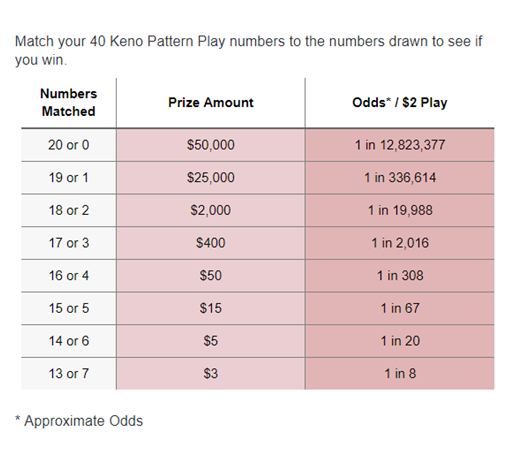 The video Keno versions tend to have higher paybacks than live paper Keno. Why certainly the odds of winning Daily Keno at OLG is 1 in 2,147,181 which is low when compared to video keno gameplay. The odds to hit a solid 7-spot is about 40,000-to-1, about the same as hitting a royal flush in poker.
This is for two significant reasons. The first is that the overhead on video Keno is much lower and the second is that you can play far more Keno hands on a video Keno machine, so the casino can make the same or higher profits because the amount wagered per hour is much higher.
But for the gamer, the paybacks on any type of Keno is pretty low relative to most other games in the casino. The paybacks are likely to be rather comparable to slots with one noticeable difference. You can at least calculate the payback of Keno with absolute certainty once you know the paytable. The probability of hitting any combination is a known quantity. So, e just multiply the payout of each winning combination by the probability of that combination and sum up these values arrive at your payback.
According to keno expert Elliot Frome, Keno involves the game picking 20 out of 80 possible numbers. The player may select two or more numbers that will be picked from that 20. He is paid if at least a minimum number of his numbers are picked out of the 20.
There are a few variations in which the player is paid for picking very few or a large number of numbers, but loses if it is in the middle. If you use combinatorial math to calculate the probability that four out of the player's five numbers will be in the 20 numbers picked while one is in the numbers not picked. This is repeated for 5 out of 5 and 3 out of 5 – which are the usual paying combination for picking five numbers.
The table below has the probabilities for picking x out of 5 numbers:
Numbers Probability
5 0.0645%
4 1.2092%
3 8.3935%
The paytable for video Keno was 810, 12 and 3 which gives the player a 91.93 percent payback. It can't compare to even the worst video poker machines, but at least it competes with the slot machines.
If you are wondering, the probability of hitting 10 out of 10 is 0.0000112 percent or 1 in 8.9+ million. So, getting paid $50,000 for this doesn't add much to the overall contribution.
According to Elliot Frome the players who are interested, you just need to plug in the payouts and do some multiplication and addition to get the payback of whatever paytable/number of pick combinations that interest you.
Play the right game at online casinos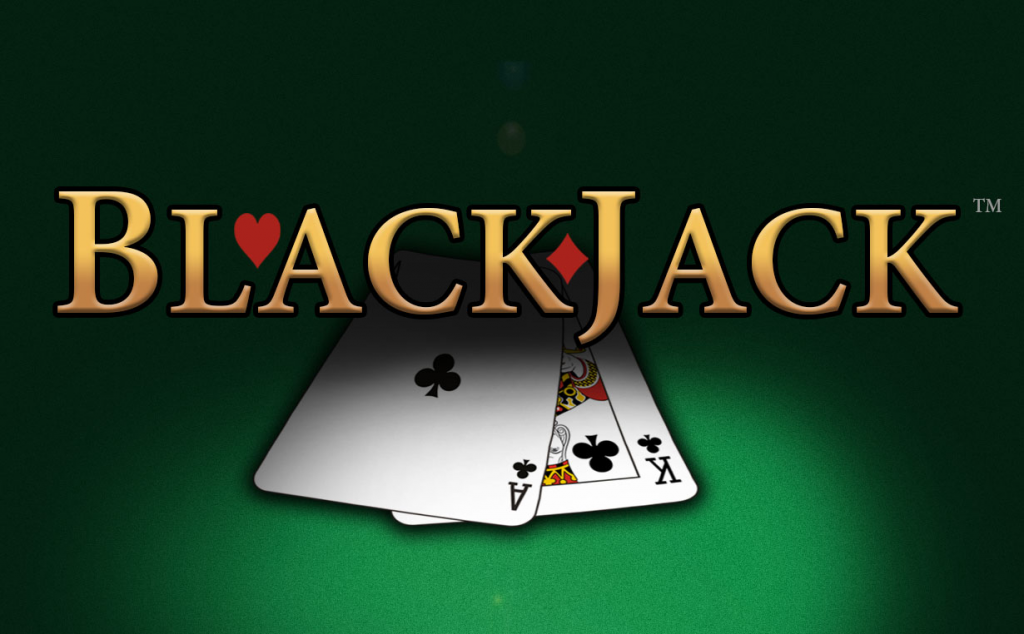 When you join any online casino you need to choose the right game to play. If you're looking to win, you should go for games that both require some degree of skill and won't leave you penniless too fast. The games with the best odds for players who actually know how to play are:
Blackjack (single deck, if available)
Video Poker (I suggest "Double Bonus" or "Double Double Bonus")
Craps (some bets)
Baccarat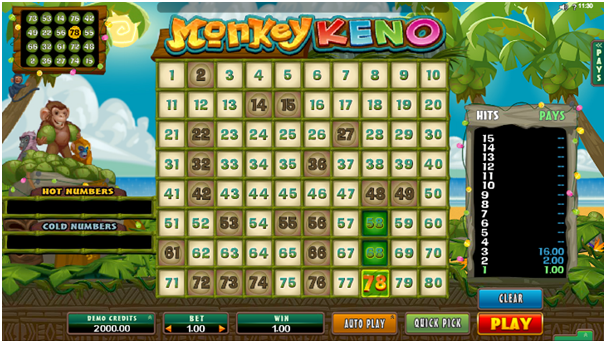 But if you're just looking to have some fun with an easy-to-learn game, however, then you can choose
Slots
Roulette (European roulette has slightly better odds)
Keno
Note that keno is designed to be played for fun. You pick some numbers on a grid, place your bet, then wait to see if your numbers come up. This lottery game is certainly a game of chance and you can do nothing to make yourself win.
Its, therefore, better to play keno occasionally for fun and entertainment or in between the games when you want to refresh yourself when playing slots or other games at land casinos in Canada. Why chase Keno wins and not enjoy the fun of Keno just for a bit of laughter and joy. Rest it is up to you to decide would you love to play Keno Games even in 2020?