10 Things you Will Always Love to Hear from Canadians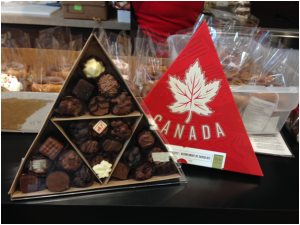 Planning to visit Canada? Canada is the beautiful place with so much of cultural diversity. In this world's second largest land mass you will find that Canada and the Canadians have so much to share  like the natural beauty, wildlife, good wide roads to explore, views of famous Niagara falls and the awesome countryside. Whether you meet any Canadian or be in Canada itself following are the 10 things that you are sure to  hear and admire.
1. I am Sorry
In a recent poll it was found that 90% of Canadians aged 18-25 say sorry and apologize if a stranger bumps them. In many countries specially south Asian countries and in Greece it might sound difficult to apologise when your foot gets stepped on in the busy road. But in Canada and among Canadians it is not so. You will constantly hear sorry word being used not for only just some negligible mishap but on each note where Canadians feel they need to offer an apology. Does that not help you learn some mannerism about our shortcomings?
2. Are you crazy or funny?
Canadians are so much fun to be with. They are hilarious and have great sense of humour. Maybe that is the reason the country has most popular comedians like Jim Carrey, John Candy, Eugene Levy, Catherine O'Hara, Dan Aykroyd, Seth Rogen, Mike Myers, Phil Hartman, Michael Cera, Leslie Nielsen and so many others. You will love to know and attend Just for laughs festival of Canada which is the world's biggest comedy festival. Also remember the deadly funny movie sequence of the Serpentine scene from 1979's "The In-Laws" was directed by a guy from Edmonton Canada. So a good hearty laugh is all about Canadians.
3. Can you lend me some Toonies?
Don't be surprised what 'Toonies' are? Sounds like a type of beer to you? But it is not. You will find such adorable phrases and words in abundance among Canadian people. Canadians do call their two-dollar coins "Toonies," cases of beer "two-fours" and napkins "serviettes" in polite company. Also if you do something dumb you will be "given the gears" or you might be asked, "What do you pay for hydro?" Tight your belt or else get alerted by hearing "your gitch is showing". So never mind someone calls you a 'hoser' or 'rink rat ' (if you are found loitering at ice arenas) in Canada.
4. Heading up to the Lake
Canada has more lakes than any other country — about 3 million. The province of Ontario alone contains about a third of the world's freshwater, spread over 250,000 lakes. Also Canada is a land of Cottages.  Cottages are beautiful and furnished with Muskoka chairs, Kevlar canoes and competing Gordon Lightfoot and loon mating call soundtracks. Recently, Ontario's prime lake district, Muskoka, has become the top summer destination  in the world.
5. Stand-in movie locations
Canada is the favourite spot for movie makers. Hollywood loves making movies in Canada — big movies — while passing the settings off as New York City, Wyoming, ancient Persia, the bow of history's most ill-fated oceanliner Basically anywhere else but Canada. If you've sat through "The Incredible Hulk," you've visited Toronto's Yonge Street — at least via celluloid.
Now answer where in the world was Morgan Freeman's shack in "Unforgiven"? Just up the road from Calgary in the Drumheller Valley — a moonscapeish backcountry that's also passed for Egypt, Persia, Armenia and East Africa in several film and TV productions. "Brokeback Mountain"? That ain't the American West, pardner. It's Southern Alberta's Rocky Mountain country.n"Capote"? You're not in Kansas, Dorothy. But Winnipeg. "Twilight"? Vancouver. "Blades of Glory"? Montreal. "Titanic"? Much of it filmed off the coast of Halifax.
6. Breathe Air
In a recent national air quality study by the World Health Organization, Canada placed third for the cleanest air on the planet. Until the first and second placers (Estonia and Mauritius) are covered in CNN Travel's "better than anywhere else" series, you direct your breath to Canadian cities — which average a relatively pristine 13 micrograms of PM10 particles per cubic meter. That is what is needed these days.
7. I love Chocolate bars
Canadians love chocolate? This country is best known for fatty, velvety chocolate. "Canadian chocolate is higher in fat and it is a higher particle size," a Hershey's senior chocolate expert recently noted in the National Post, adding that Hershey's now offers a separate recipe for the more discriminating Canadian chocolate palate."Americans tend to gravitate toward a little more of a grittier or even cheesier flavor." That's why eating any of those generic chocolate bars or local Canadian faves like Caramilk, Aero, Mr. Big, heck even Sweet Marie in Saskatoon, is a creamy, velvety experience. Have a KitKat?
8. Why not Ski?
Heli-skiing..That all started in the Canadian Bugaboos, which remains one of the best places to do it. Canada boasts some of the best reasons to haul your skis or snowboard. In the West, there's Lake Louise, plunked right in gorgeous Banff National Park, and a ring of powder havens throughout eastern British Columbia. Whistler Blackcomb is one of the world's leading ski resorts, getting a "best in North America" award. In the East, there's Quebec's beer-commercial-fun Laurentians — where après-ski needs no translation.
9. Maple Leaf is my favourite
No national symbol is as ubiquitous as Canada's maple leaf. From Newfoundland to Victoria, it's everywhere you look — a proud, unrelenting reminder of where you are. The most obsessive leaf activity occurs abroad, where generations of flag-bearing Canadian backpackers are famous for sewing maple leaf patches onto their bags just to make sure everyone's clear at a glance who they are. Canadians self identify by their brand- Maple leaf.
10. Trip to highway
Canadians love good food and drinks. Their road trips are all about the food. Nothing says gustatory bliss on the Trans-Canada Highway like Timbits with a double-double coffee. At least in places like Alberta or Manitoba, where nothing works up an appetite like hours of sedentary driving along some of the longest, straightest roads  where you have to count Petro-Canada stations  and pull over for the best comfort food gracing any rest stop.
Tim Hortons. Harvey's. Swiss Chalet to name a few. You can eat McNuggets wherever have a peameal & natural smoked Bacon Bacon burger, or half-chicken plate with Chalet sauce, or a box of Timbits with a double-double coffee. Or grab a butter tart and Nanaimo bar too.
This land full of virtues and modesty, good food and drinks, beautiful road trips, lake and cottages as well as hospitality is what Canada and Canadians are admired for. Right!
10 Things you Will Always Love to Hear from Canadians

,