Three Most Popular Keno Games in Canada
Have you ever wondered how old are the Keno games? The Keno style lottery games date back to the 2nd Century and it all began in China when Chinese warriors guarding the local cities thought as how to spend their spare time. These warriors concocted a game of chance that soon became known as Keno.
Originally the Keno style lottery games were played with Chinese characters and money but over the years, as the game developed and worked its way across the oceans to America and later to Europe the playing style too was modified from country to country. Canada too is not far behind playing Keno. In fact Canada is famous for Keno games and lotteries. You will find Keno games being played in most of the Canada pubs and sports bar across the country. Let is know about the three most favourite Keno games that the Canucks love to play.
1. Daily Keno Lottery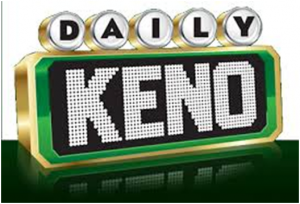 In Canada the Ontario Lottery and Gaming Corporation runs the OLG Daily Keno as one of their top lottery games. You will find a wide range of bets that makes it easy to wager as much as you want with different levels of risk. The Daily Keno is one of their most popular games with thousands of people playing every single day.
How to Play OLG Keno
Twenty winning numbers between 1 and 70 are drawn.
Two draws per day – a 2 p.m. (Eastern Time) MIDDAY draw and a 10:30 p.m. (Eastern Time) EVENING draw each day.
You have to decide which PICK CATEGORY you would like to play. Choose from a 2 PICK (2 numbers) up to a 10 PICK (10 numbers).
Bet $1, $2, $5 or $10. The more you bet, the more you can win!
Match your numbers to the 20 winning numbers to win!
You must be 18 and over years of age to play this game.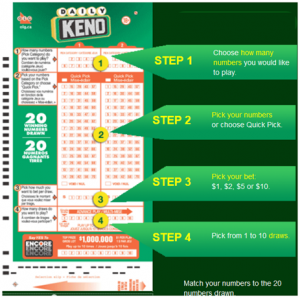 Once you get a game ticket (from retailer authorized by OLG), you'll need to mark how many numbers you want to try to guess, and this can be anywhere from two to 10.
Mark down the numbers from the pool of 70 that you are guessing will be drawn. If you just want the computer to pick random numbers, then you can ask for the Quick Pick option instead.
Once your numbers are chosen, you'll bet $1, $2, $5 or $10 on your ticket.
You have the option to play for up to 10 consecutive drawings in the Daily Keno, and you can pay for them all in advance.
After your ticket is purchased, just check in on the results for the daily drawings to see if you have won.
There are a total of 22 different ways to win in this game. However, the most popular bet is the 10 Pick where a player tries to guess 10 of the 20 numbers that are drawn. The odds of getting 10 numbers right are one in 2,147,181, and this pays out $250,000 for every dollar that you bet.
Getting nine numbers right pays $5,000 times the size of your bet, and the chances are one in 47,238. Hitting eight numbers has a one in 2,571 chance with a $200 prize per dollar wagered, and match seven numbers pays a $25 prize for every dollar that you bet on your ticket with a 1 in 261 chance of hitting.
You also have a one in 39 chance of getting exactly zero numbers correct, and you win a $2 prize on a $1 bet for this result.
2. Atlantic Keno Lottery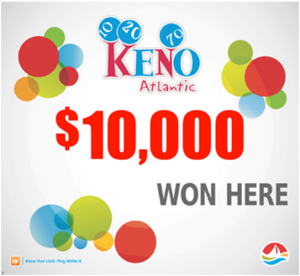 Keno Atlantic is Atlantic Canada's Daily Keno game played widely brought to you be Atlantic Lotteries in Canada.
How to play Atlantic Keno
Ask your retailer for a KENO Atlantic selection slip. The selection slip contains 70 numbers to choose from.
Decide how many numbers you wish to play. Select from two numbers (2 SPOT) to 10 numbers (10 SPOT). To chose your numbers, mark through them with a pen or pencil or you can ask for Instant Pick and the numbers will be randomly computer-generated for you.
For each set of numbers you choose, pick the amount you wish to wager: $1, $2, $5 or $10. Ask for a $2 "Hi-Lo" ticket and numbers for both a 2 SPOT and a 10 SPOT will be selected for you on one transaction.
For an additional $1, you can add TAG to your ticket. You can play TAG up to 10 times on each ticket.
You can purchase for future draws by marking the appropriate Advance Play box on the slip. You can play from 2 up to 10 consecutive draws.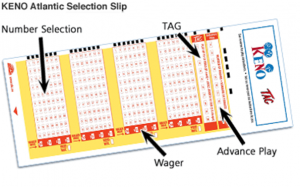 Every night, at approximately 11:29:59 p.m. Atlantic time, Atlantic Lottery will draw 20 KENO Atlantic numbers at random using a ball machine.
You win when you match all or some of the numbers you've selected in your SPOT.
Your prize depends on how much you've wagered and how many numbers you've selected and matched correctly.
Prizes must be claimed in the manner stated on the back of the ticket within one year following the draw date.
3. Keno in Online Casinos
Canadians also love to play Keno at online casinos. Canadian friendly casinos offer some real money Keno games to play. As you know Keno is a simple game like bingo where players guess which numbers will be drawn randomly on a board from 1 to 80. Players are paid out based on the number of correct guesses. You can play online keno on your laptop, mobile or tablet whenever you wish to play
How and where to play Keno Online at Casinos
Keno is easy to play – a game sees a board with 80 numbers, and betting is done by placing wagers on selected numbers, before 20 numbers are drawn out. keno players will be paid on the basis of how many numbers they can match successfully, and sometimes there will be payouts for matching exactly 0 numbers out of 20.
If you want to play keno for real money you will find a wide range of online casino sites in Canada, and it couldn't be easier to learn. Online Casinos that offer Keno Games to Canadians are:
How to win at keno online
Keno is simple games with one of the biggest luck elements involved, and the house edge is greater than in many other online casino games. You can play keno for real money or for the love of the game or for fun.
After you find a great keno casino online in Canada you can set your betting limits, decide where you enjoy playing for real cash, or even have a few practice rounds for free before you start playing – it's entirely up to you.
Once you have worked out how to play keno you can just sit back, do your betting, and let the numbers do their work.
Also you have the option to play Keno at Sports bars in Canada. There are many land based sports bars but the top four sports bar sites that offer online Keno are
Sports Book- 100% upto $100
Gt Bets- 100% upto $250
Sports Interaction– 100% bonus upto
Bodog- 100% Free Bonus upto $100
Now with so much of variety of places to choose from and so many variations of Keno choice is yours where you would feel to play Keno and enjoy some winnings.