Keno – What it Sums Up at Canadian Lotteries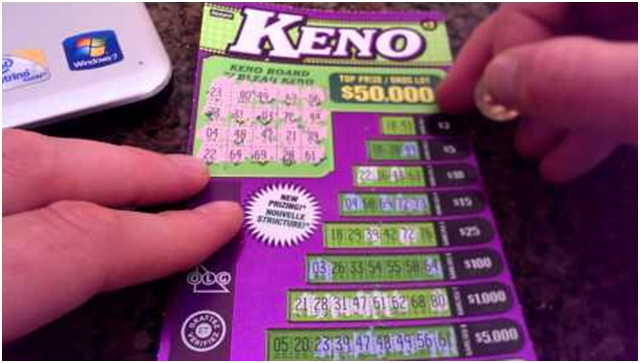 In 2017 Keno players can look forward to play and enjoy this exciting game at the Canadian Lotteries As all of the regional lottery corporations offer keno options which give canucks the opportunity to play this fun-filled game as part of the lottery.
Just to recall Keno is an ancient Chinese game of chance where limited  winning strategy as such prevails to win and no skill can make you a prefect player.  Only that wins are determined within seconds based on the numbers that are chosen.
When the game travelled to Canada for the first time gambling was illegal in Canada and players gambled on keno numbers in underground salons and speakeasies.  When lotteries were legalized in the 20th century keno came out into the open. The Canadian lottery featured keno as one of its original game options and it has been a lottery mainstay ever since.
Proceeds from Keno gaming account for a good deal of the Canadian lottery revenues today. Some of these keno games are offered through keno tickets that are purchased at retailers while other keno games are offered at online, both at Canadian lottery online sites and at online casinos
Keno is an easy game that provides players with instant win results. The simple rules combine with fast-paced action, resulting in an enjoyable lottery option. There are big payouts associated with this simple game. All you need is just pick your numbers and hit "Play."
How you play Keno
To play keno, start by selecting the number of Keno cards that you want to play and the amount to wager on each draw. You don't want to expand the game too quickly but prepare — when you're ready to expand you can do so quickly. It's a good idea to increase your maximum number of games and wager amounts so that you can achieve bigger earnings on more wins.
Next, check your keno card . You'll see numbers 1-80. Fill out your card by checking the numbers that you wish to play. If you are in a keno competition with a high play rate specially at casinos you'll be able to cross off somewhere between 1 and 20 numbers. Now you can place one deposit on each "spot."
Click "spin" to spin the ball. The landing spots denote the winning numbers. The game will randomly indicate 20 balls (out of 80 possibilities) so for every one of your numbers that matches one of the game's numbers is a 'hit." Hits indicate payouts. The more hits that you achieve, the more payouts you'll collect.
Keno paytables vary. Each lottery has its own house edge and paytable. For the best results, compare and contrast among the different lotteries so you'll be able to determine those that offerthe best payout rates.  In general the online casinos offer the best payout rates because the house edge is significantly lower than those of the Canadian lottery venues.
You can play Daily Keno or Instant Keno
Play Daily Keno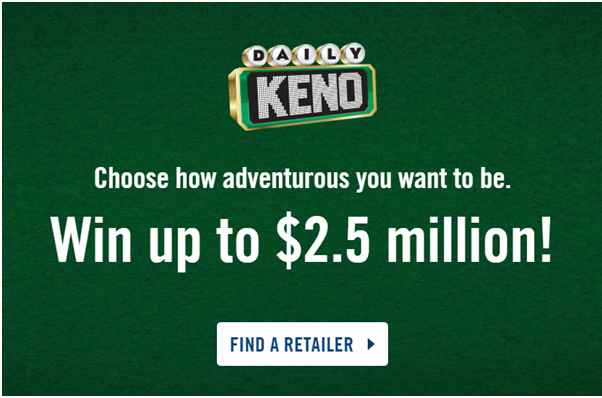 Daily Keno  is an exciting lottery game that lets you control how you want to play. Twenty winning numbers between 1 and 70 are drawn. You match your numbers to the 20 winning numbers to win.
There are two ways to play Daily Keno
Play by quick pick– Ask an OLG retailer for a Quick Pick – e.g., "I'll have a $1 DAILY KENO 10 PICK." And there you go
Or Play by pick your own– Choose how many numbers you would like to play. Pick your numbers or choose Quick Pick. Pick your bet: $1, $2, $5 or $10. Pick from 1 to 10 draws. Finally match your numbers to the 20 numbers drawn.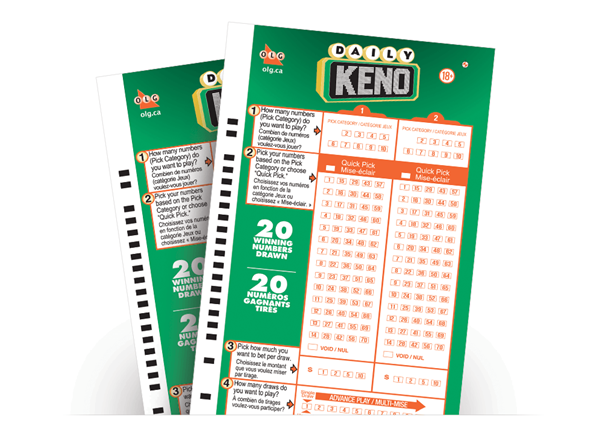 Add Encore for an extra buck
ENCORE celebrates the most winners. For only $1, ENCORE is a bonus game that offers a chance to win $1 million. And with 22 ways to win and prizes starting at $2, there are a million reasons to say 'yes' to ENCORE.
Just ask your lottery retailer to include ENCORE on Quick Picks with your host game. Or mark how many ENCORE you want to play (1-10) on your Selection Slip.
Cash prizes for matching left to right, right to left, or a combination of both. Overall odds of winning any prize are 1 in 9.17. This is available only in Ontario.
Play Instant Keno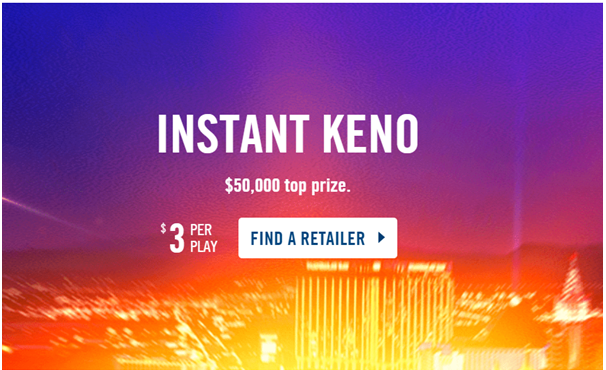 With $3 per play you can play Instant Keno where the prize payout is 64.97 per cent and overall odds of winning: 1 in 3.75.
With $50,000 top prize just scratch the KENO BOARD completely. For each of the 20 numbers revealed on the KENO BOARD, scratch that same number each time it is found in GAMES 1 to 9.
If you reveal ALL the numbers in a GAME, you win the corresponding prize for that GAME.
Keno Payouts Values
Different lottery sites allow varying paytable wagers. While some lotteries allow you to deposit on up to 20 numbers, others limit your deposits to up to ten numbers. You can usually find the highest paytable wager options at the casinos.
Keno payout values are determined by the amount of numbers that you played and the number of hits that you achieved. The casino then multiplies those number by your original wager's proportion to the "base rate" of the paytable. Don't forget that the numbers that you choose combine with the percentage of hits so choose more numbers to reach the biggest possible payouts.
Keno Odds
Returns on Keno gambling range from 65% to 80%. Studies have shown that  government-sponsored keno sites keep the house edge at anywhere from 20%  to 74% while casinos have an approximately 4% – 5% house edge. Casino advisors point out that the government sites don't give their players a very good return on their money. Keno is simply not a good game to play at a land-based casino venue.
You can  play Keno for real money at  casinos where the payout rate is higher and the house edge is lower.Wager on numbers that have not come up in the recent past since such numbers often show more success in coming up in the future. There seems to be a higher rate of success when wagering on numbers that occur in a consecutive fashion (for instance, 3 and 4, or 26 and 27) and numbers that the gamer plays consistently (i.e. playing the number 9 over and over again) as opposed to playing numbers randomly. The numbers that come up are a matter of luck. However, since every ball has a 1 in 80 chance of being selected, the more numbers that a gamer plays, the more "hits" are possible.
Now play online or at casinos like Spin Palace, Jackpot City, Ruby Fortune, Gaming Club that is your choice.
Keno - What it Sums Up at Canadian Lotteries

,