Top 6 Video Keno Online Games to Play
If you're eager to play video Keno games, and not sure where to go, no worries – you're in the right place. Keno is a very simple and popular casino game with a chance to win big! If you've already played your share of video Keno, you can jump straight into the title of your choice without trying free Keno to sharpen your skills. Here I have rounded up Top 6 Video Keno Online Games to Play that you'd love to enjoy for a long time.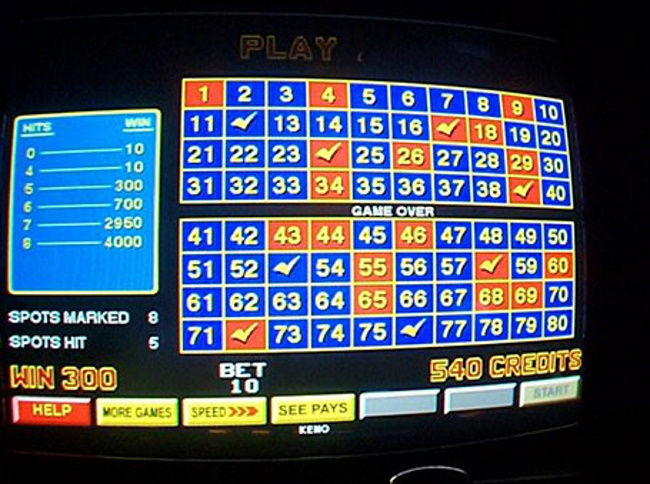 This is an advanced version of video Keno you can play online. In this game, you can customize the display of the grid, bet on up to 10 numbers, and see the payouts at the left side of the screen.
Playing this game can win you up to 9,000 times your initial bet (for only 10 numbers), and that makes it one of the best ones for those players who are expert Keno players.
The Video Keno games at online casinos looks very similar to a slot machine or video poker machine, because just like these two games, it's a stand alone machine for a single player. Like poker, keno is a game that is traditionally played in a land casino environment that many can play at the same time. The video version of keno, like video poker, takes the principles of the game and puts it into an electronic format that an individual can play on his own terms.
The aim of video Keno is to predict which of 80 numbered balls are going to be selected, in this case by the machine. You will have 1-80 numbers to pick from, and will be able to choose a set amount. Once your selection is made, the machine will pick a set number out of the 80 available – if you predicted correctly you win. There will be different payouts depending on how many correct selections you made, and which bet you made.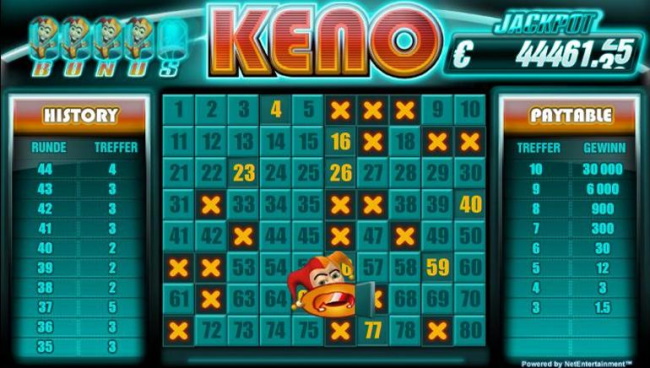 If you're a novice and want to try your hand playing free video Keno game and sill want to have a chance to win real money.
This game has an amazing grid with 80 numbers that go from 1 to 80. When you place your stake, you can choose up to 15 lucky numbers you want to bet on.
If you are not sure which numbers to choose, Jackpot Video keno will help you. Just click the button "Random" and the numbers will be picked for you.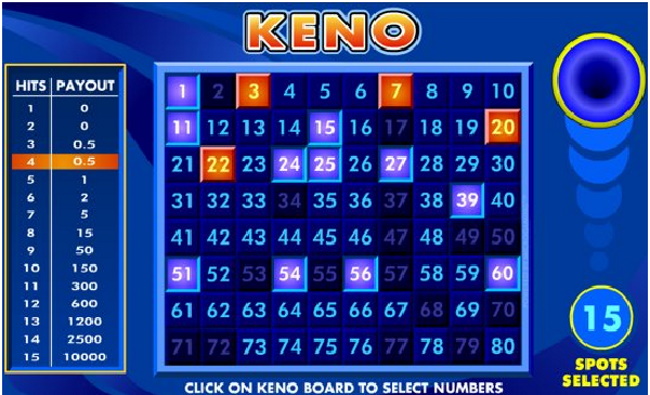 As the name suggests, this video keno game is the product of Microgaming, which is one of the best versions of video Keno. It's simple and straightforward. In a way – a classic.
Once you have chosen your 15 numbers, the system chooses 20 numbers. Matched numbers are highlighted, and numbers the system chose that you did not are marked on the board as well. You must match at least 3 numbers to get a payout. The payrate goes from 0.5 for 3 or 4 matches, up to 10,000 for 15 matches.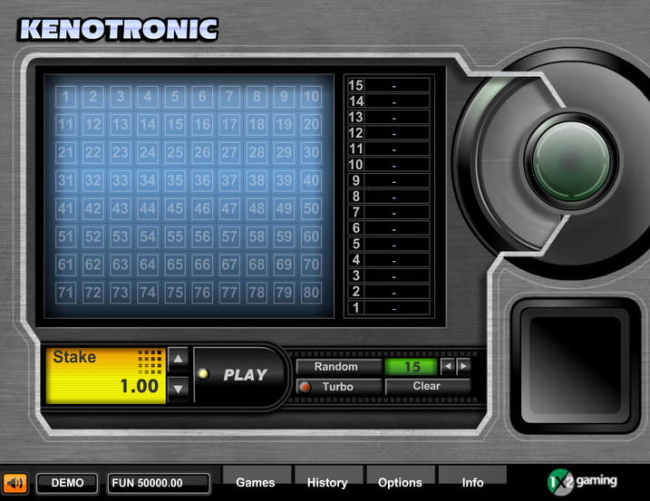 This is a Microgaming product which is one of the best versions of video Keno. It's simple and straightforward. In a way – a classic. To start the landing of numbers, you need to set the bet. You can do it in the Stake section by using the up and down arrows in the range of 0.1 to 20 credits. Then, pick from 1 to 15 number boxes. To do this, click on one of them. Click again to cancel the selected box. Click the Random button to activate random boxes. To the left of the Random button, you can see two arrows which let you set the number of random boxes to be activated. Click the Play button to start the Kenotronic slot. 20 boxes with numbers will be chosen at random. If the numbers you've chosen and the ones which randomly land coincide, credits are deposited into your account.
You can make your bet and pick up to 15 numbers. The more numbers appear the more you win. In this game, you can win 10,000 coins.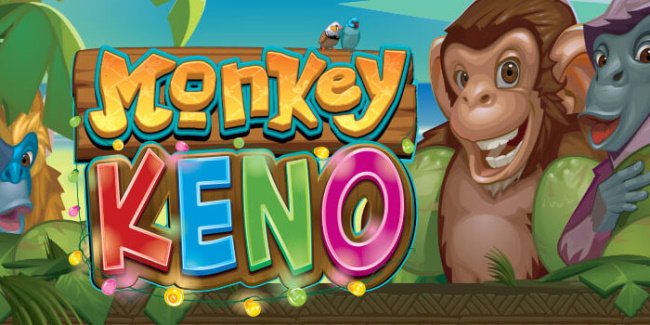 In case you are bored of playing classic video Kenos, shift to Kenotronic, which will surely entertain you.
Why? Because of its upbeat music and futuristic design!
Moreover, this is your typical video Keno game with a table of 80 slots, with a possibility to bet on up to 15 numbers, and a turbo mode which makes the gameplay more dynamic.
15 numbers may be selected on the board before a monkey throws 20 coconuts on to the board landing on 20 numbers themselves selected by a digital random numbers generator. If a coconut lands on one of the previously selected numbers this is termed a 'hit', the more hits per round the greater the opportunity to produce more prizes.
First select the amount you wish to bet before selecting up to 15 numbers on the board by clicking on each of the desired numbers. If you wish to change your mind, you can do this before the round begins by simply unchecking the selected numbers. Finally, press the 'Play' button to begin the round at which point the monkey will start hurling coconuts at the board to mark the numbers selected by the digital random numbers generator.
wo panels of numbers marked 'Hot Numbers' and 'Colds Numbers' are displayed on the left side of the screen, in which there are 10 numbers listed on each panel, the hot numbers indicate the top ten numbers in terms of frequency of having been randomly drawn, whereas cold numbers are those which have been drawn the least frequently as compared to the other 70 numbers.
By clicking on the 'Hot Numbers' or 'Cold Numbers' section, all the numbers in the box you have chosen will be selected as a selection of numbers for the next draw.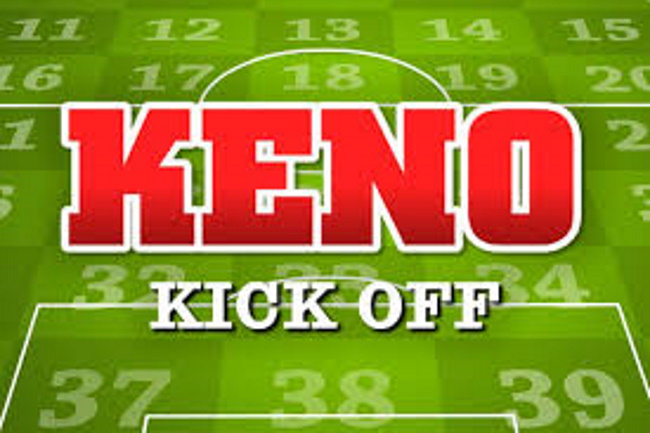 Keno Kick Off is one of the most creative videos Keno games online. With only 40 numbers to bet on, the entire grid looks like a football ground. You can seek the lucky numbers on the screen as football players.
If you are a fan of football or soccer, you can sit back and enjoy not only a globally favorite sport but also a fun keno game. 1X2 gaming puts the field on your screen and gives you 10 numbers to pick in hopes of winning big.
The game board is made of a football/soccer field with checkered numbers. You need to select up to 10 numbers, which can be winning numbers, and then press the gray 'Play' button. This starts the game and 10 soccer players will walk out onto the field as the winning numbers.
Players can select manually their desired numbers, or conveniently let the computer randomly do so by using the 'Auto Pick' feature. There is an option to adjust the bet using the up or down 'Stake' arrows, which are located in the upper, left-hand corner of the screen. You can select from stake values that range from a minimum of $0.05 to a maximum of $20.00 per play.
There is also an additional convenient 'Turbo' feature. You can click on the labeled button to automatically display the winning numbers. This feature is great as it cuts down on animation time and maximizes actual playtime.
You can select from the 40 potential numbers spread across the field. On selecting up to 10 numbers, and the higher the stake and more numbers selected means bigger potential payouts. You can win a maximum possible Jackpot of $10,000.
The 'Auto Pick' feature will select random numbers and also provide the potential to determine how many numbers to select.
Synopsis
These are the most popular Top 6 Video Keno Online Games to Play for Free and for Real Money that you can enjoy any time anywhere testing your luck.
Top 6 Video Keno Online Games to Play

,