How To Check Your Keno And Other WCLC Lottery Results Instantly?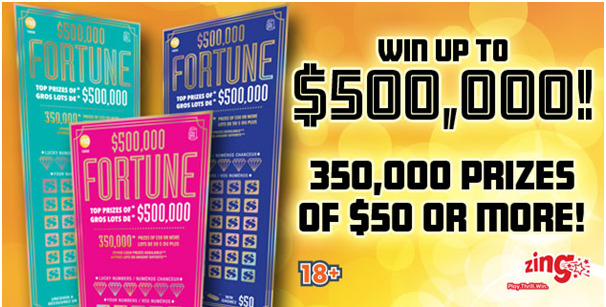 The Western Canada Lottery Corporation (WCLC) is a Canadian non-profit organization founded in 1974 that operates lottery and gaming-related activities for its members, the governments of Alberta, Saskatchewan and Manitoba. Yukon, the Northwest Territories and Nunavut participate as associate members. WCLC works in conjunction with the following marketing organizations: Alberta Gaming and Liquor Commission, Saskatchewan Lotteries, Manitoba Lotteries Corporation, Lotteries Yukon and Sport North Lottery Authority. In conjunction with the Interprovincial Lottery Corporation, WCLC offers Canada's highest payout lotteries, Lotto 6/49, Lotto Max, Daily Grand and Keno.
Table of Contents
How to play Keno at WCLC?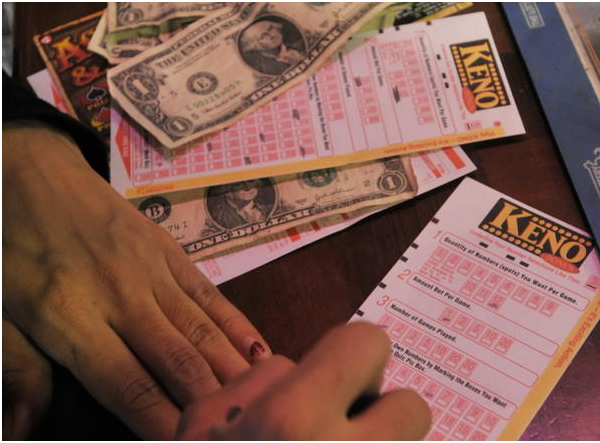 Keno is available at all lottery Retailers in Alberta, in addition to Manitoba, Saskatchewan and the Territories and lets you play any way you want, every day, every five minutes!
On your Selection Slip, mark how many numbers you want to play. You can choose to play from 1 to 10 numbers.
Select the amount you wish to wager for each draw. You may wager $1, $2, $5 or $10. If you do not mark any of the wager boxes, your wager will be $1.
Select and mark the numbers from 1 to 80 you want to play. The total selected must be equal to the number of numbers marked in Step 1. If you want the computer to select the numbers for you, mark the Quick Pick box. You can also ask for a Quick Pick. Just advise how many numbers you wish to play, your wager and the number of draws you want to play.
Mark the number of consecutive draws from 1 to 99 that you want to play. Your wager and the numbers you select will be eligible for only one draw if you do not mark a box under the Draws column. To select more than 10 draws, mark a maximum of one box in each of the vertical columns. (For example, if you wish to play 23 draws, mark 20 in the first column and then 3 in the next column.) To determine your total wager, multiply the number of draws by the dollars wagered for each draw.
Keno draws are held every five minutes. Tickets can be purchased from 5:00 am CT until 4:00 am CT; 4:00 am MT until 3:00 am MT; 3:00 am PT until 2:00 am PT. Keno draws take place from 5:30 am CT to 3:30 am CT; 4:30 am MT to 2:30 am MT; 3:30 am PT to 1:30 am PT.
How to check your Keno and other WCLC lottery results instantly?
There are several ways you can check your lottery tickets instantly to know the winner.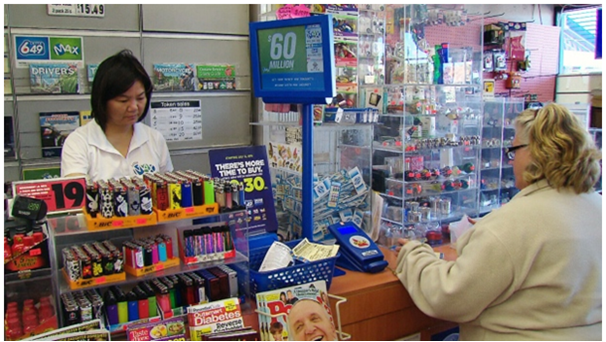 You can just go to the lottery retailer and use the Ticket Checkers to check your ticket. Wait for the message, "CHECK YOUR TICKETS HERE". Insert the bar code under the red light – the bar code is located at the bottom of the ticket or under the latex in the play area for SCRATCH 'N WIN. Move the bar code slowly through the light, until you hear a BEEP. Prize information will then appear on the screen.
You can also conveniently check your Keno numbers by taking a visit to a WCLC retailer. Many retailers have multiple electronic Keno displays that show the most recent numbers, along with the numbers from the previous draws. All you need to do is visit a retailer and ask them to check the Keno numbers for you.
Another way is Check the winning numbers printed and posted at Retail stores.
You can also check and compare your numbers to the winning numbers on WCLC website.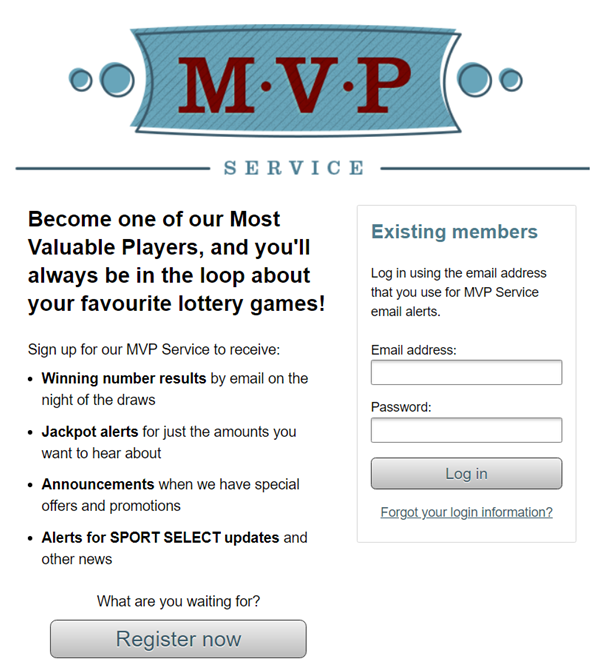 You can also Sign up for WCLC MVP (most valuable player) Service and have DAILY GRAND, LOTTO MAX and WESTERN MAX and/or LOTTO 6/49 and WESTERN 649 winning numbers emailed to you directly.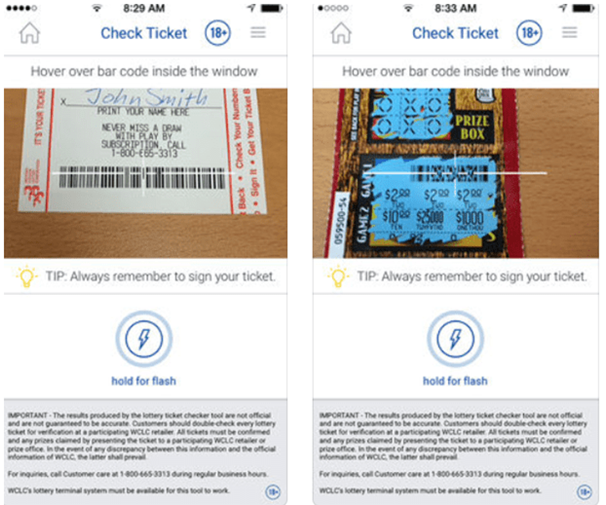 Also you can download the Lottery Manager app and use the new ticket checker feature. For the Android phone, app click here to get the free app. Use the ticket checker feature to scan your draw-based, sports or instant lotto tickets to find out if your ticket is a winner! The ticket checker feature uses the camera on your phone to scan the ticket barcode to determine if your ticket is a winner and how much you have won!  For best results, Apple devices should be running iOS version 8.0 and higher, and Android devices should be running v.5.0 and higher. If you have questions about the app, call Customer Care at 1-800-665-3313 during business hours Monday to Friday 7:30 am – 4:30 pm MT/ 8:30 am – 5:30 pm CT.
Another easier way to check your Keno numbers is via the WCLC app. The app is made free of cost on both the App Store as well as Google Play. Once you have installed the app, you can check the Keno results by picking the "Lottery" tab and then choosing "Keno". The app will most likely display the latest numbers, along with the numbers from the prior draws.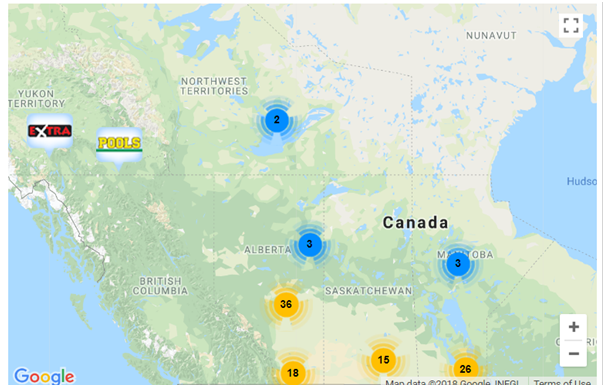 You can make a phone Call to know the Winning Numbers Lines for the most recent numbers. Edmonton (780) 459-5100, Calgary (403) 275-8101, Regina (306) 525-0591, Saskatoon (306) 244-1780 and Winnipeg (204) 780-5825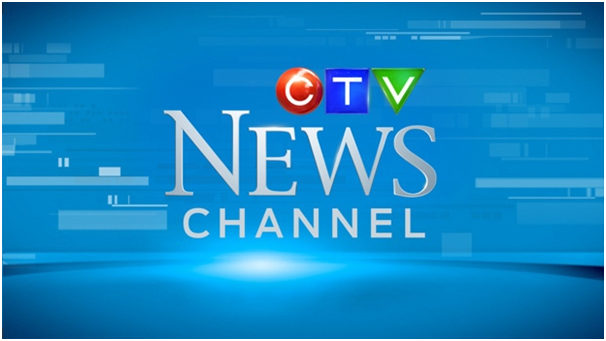 You can watch CTV News on TV channels to get the lottery results. Or watch draw videos here.
Many daily newspapers print lottery results so read your local newspaper.
Have a Keno lottery ticket with you, then check the results now instantly with any of the above methods that you feel are simple to do.
FAQ
1. How can I check my Keno numbers online?
You can take a look at your Keno numbers online by checking the WCLC website (www.wclc.com) and accessing the "Lottery" tab. From there onwards, choose "Keno" from the drop-down menu to take a look at the most latest numbers, along with the numbers from older draws.
2. Is there a WCLC app that I can use to check my Keno numbers?
Yes, the WCLC provides a free app that is quite available on both the App Store as well as Google Play. You can utilize the app to check the majority of the recent Keno numbers, and the numbers from previous draws.
3. Can I check my Keno numbers at a WCLC retailer?
Yes, there are multiple WCLC retailers with electronic Keno displays that will show the most latest numbers, along with the numbers from certain previous draws. All you need to do is to visit a retailer and interrogate them to check the Keno numbers on your behalf.
4. How can I check other WCLC lottery results?
You can easily check the other WCLC lottery results by accessing the WCLC website or making use of the WCLC app or even visiting a WCLC retailer. On the website as well as the app, you can pick the lottery game you want to check the results for and take a look at the most recent numbers, along with the numbers from the prior draws. When you are at a retailer, you can confidently ask them to take a look at the numbers for you.
5. Are there any rules or regulations I should be aware of before checking my lottery results?
Yes, it is quite necessary to always play responsibly and to go through the rules and regulations of every lottery game before you partake in those games. You should also be wary of the cut-off times for all the checking results, as numbers might not be present for viewing instantly after the draw.
Conclusion
In conclusion, going through your Keno as well as other WCLC lottery results can be quite conveniently accomplished and immediately by visiting the WCLC website, utilizing the WCLC app, or strolling to a WCLC retailer. With all these options, you can easily check your numbers as well as also check if you're a winner. Always make sure to play responsibly and ensure that you are following the rules and regulations of every lottery game before participating.