How to Play Strip Poker Online Canada
Strip poker is a poker fun or you can say a party game played like traditional poker with the difference that the players remove clothes when they lose a round. Any form of poker can be adapted to a strip form; however, it is usually played with simple variants with few betting rounds, like a five-card draw. Strip poker can be played by single groups or by mixed groups in social situations and is intended to generate an atmosphere of fun, and to lighten the social atmosphere by the removal of clothing. This is an adult game adapted for a person to play alone, either by use of video games or online.
Table of Contents
How to play Strip Poker
An ordinary deck of 52 cards is used in Strip Poker and can be played by two or more people where the player(s) losing a hand have to take an item of their clothes off. Some variations are possible here: for example, if there are more than 2 players, only the player with the worst hand may be asked to strip. But usually, all the players who lost the hand have to strip.
Any community variant of poker, such as Texas Holdem, Omaha, Draw or Seven Card Stud is suitable for playing Strip Poker. Also, some specialized casinos combining adult entertainment with gambling offer to play Strip Poker against the dealer, in which case any casino-style variant, such as Caribbean Stud, is suitable.
Although Strip Poker isn't necessarily played for real money, as in any poker, some form of betting is essential. For example, the chips that can't be exchanged for real money can be evenly distributed among the players before the game starts. Another variant of the game allows the players to buy back the items or clothes they've lost. This may or may not require the approval of the other players.
General conventions for playing Strip Poker:
All players should have approximately the same number of items of clothes to take off at the start of the game.
If a player who lost a hand refuses to take clothes off – it's OK, but such a player should be asked to leave the game.
The player who has no clothes left normally leaves the game.
You can play many variants of the game including Draw Poker, Texas Holdem and Video Poker. and exotic variants of Strip Poker such as Omaha, 7 Card Stud and Caribbean Stud.
History of Strip Poker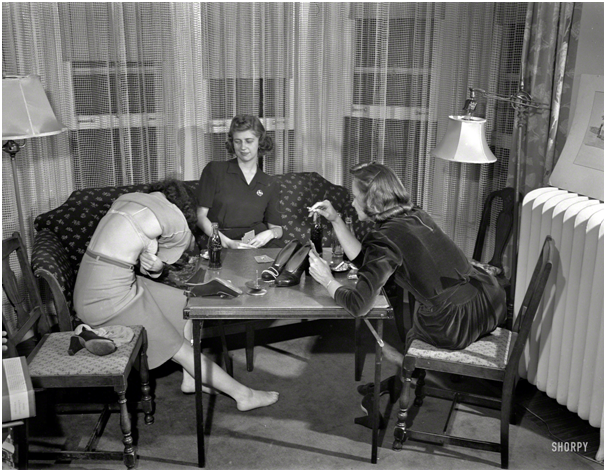 There is no certainty about where and when the game of Strip Poker originated, according to Wikipedia, it was first played in Brothels in New Orleans in the 19th century. Then it was just a grotesque form of entertainment for young male gamblers who lost all their money but wanted to go on playing. Therefore, originally the game was missing the element of sexuality which is closely associated with it today.
Since Texas Holdem has not gained popularity until the first half of the 20th century, originally Strip Poker was played as a classic 5 card Draw Poker. Here are a few facts found in research as to how the game gained popularity.
In a 19th century painting it depicts an Anderson Cafe which was among the most popular venues in Storyville, the area of New Orleans commonly associated with prostitution and gambling.
The "mixed strip poker", where both male and female players are present, originated in England during the Great Depression as a form of erotic entertainment. The game was mostly played in unlicensed casinos, which often also operated as brothels. Still, Draw Poker remained the most common form of the game.
In the 2nd half of the 20th century, Strip Poker started getting recognition in popular culture, including movies, computer games, music videos, and TV shows.
The game made one of its most notable appearances in the 1979 movie "The Wanderers", which included an episode where young gangsters are playing strip poker with their girlfriends. The film about New York's gangland subculture was directed by Philip Kaufman, who was a member of a gang while growing up in Chicago.
With the widespread introduction of personal computers in the 1980s several versions of Stip Poker computer games were developed for different platforms including Atari, Amiga, PC and Apple.
Strip Poker started gaining popularity in mass media with the introduction of more advanced broadcasting techniques, allowing more precise audience targeting. Also, society became more tolerant of scenes of mild nudity on TV, which resulted in a number of TV shows featuring Strip Poker appearing in the late 90s, and the trend continue today.
Strip Poker made its first appearance on TV in 1999 with the game show called "Strip Poker" aired on selected channels in the USA. The show was hosted by Graham Elwood, with Jennifer Cole as the card dealer. It was based on a "five-card stud" variant of poker with elements of a quiz game.
This was followed by the game show Räsypokka aired on the SubTV network in Finland from 2001 to 2003. There were 2 male and 2 female players in each episode, some of them getting fully naked during the game. Some episodes of the show were filmed in nightclubs and bars.
In 2005, a Strip Poker Invitational show was filmed in Las Vegas and aired as Pay-Per-View. Directed by Ben Weinstein, it was hosted by Carmen Electra, among players were Playboy models Heather Carolin, Tracy Dali, Felicia Tang, and Aimee Sweet. The variant of poker played during the show was Texas Holdem, which was at a peak of popularity following the 2004 WSOP championship.
Then it was taken to a new level in 2006, once again in England: the world's largest Strip Poker tournament took place in Café Royal in London on 19 of August that year. The event was organized by Paddy Power Entertainment Ltd (Ireland), and involved 196 participants playing no limits hold'em in a bid to win £10,000.
The Rules of playing strip Poker
The rules of strip poker are flexible and intended to generate an atmosphere of fun in an adult or adolescent group. Generally, each game starts with players wearing the same number of articles of clothing, though that is not necessary. Some groups allow women to wear more clothes than men. The round begins by each player wagering an item of clothing by saying what it is. The players who lose a round would remove that particular article of clothing. There are different rules as to what happens when a player has removed all of their clothes. Some groups allow women to put their clothes back on and continue playing, while men have to continue playing without clothes, until all men have removed their clothing, and others for the game to stop at that point, with the players either putting clothes back on, or remaining unclothed or semi-clothed for the rest of the evening.
In some rule sets, players who fold before the flop are not required to remove clothing. As such, a player who is uncomfortable removing clothing (or, more commonly, a player who does not want to remove all their clothing first) can simply fold very often or every time before the flop, essentially playing a "tight" pre-flop strategy. Using this strategy, a player could stay clothed for the entire game simply by folding their hands.
Strategy in playing Strip Poker
Strip poker requires a different overall strategy from poker played with betting chips since the maximum loss on a hand of strip poker is (typically) one item of clothing. In a betting environment, a player who stays in the pot with a weak hand is liable to lose many chips in a single hand. In strip poker, the risk of staying in a hand is significantly limited, so players can play hands with lower probabilities than they would in a cash game. For example, in a cash game, because it occurs only 8% of the time, an inside straight draw might be a poor hand to play, hence the saying "Never draw to an inside straight." In strip poker, when the potential loss is only one item of clothing whether you fold or call, an 8% chance to win the hand is better than the alternative.
Strip Poker Android Game
You can play Strip Poker now on your Android Cell phone with an app. You can try this flirty and mature version of the classic card game, one in which adult players can literally lose the shirts off their backs. In strip poker, players wager on items of clothing they are wearing, and by the end of the game, several players often end up in their underwear or naked.
One of the apps you can try to download on your Androids is Strip Poker LT Online. It is the classic game of Italian poker with bluff and Teresina's hand when making a point higher than the full. You can play online vs friends or random opponents
The stakes are only virtual and are played only for fun and for a place on the leaderboard. To make the game less boring, then, there is the striptease function but even this, is purely virtual, for obvious reasons of regulation of the google play market.
The objective of the game is to win all the mail of the opponent to force him or her to take off a garment and view for each level, if present, the opponent's picture.
The cards in the deck are 24 (9 to Ace). The order of the scores is that of poker:
One Pair: Two cards of the same, two pairs: 2 pairs; Tris: 3 equal cards, straight: cards in sequence (Ace can go before 9 or after the K), full: 1 trios + 1 pair, colour: 5 cards of the same suit, Poker: 4 equal cards, Royal flush = scale of the same suit.
Each game (hand) is developed as follows: both players bet 10 (automatic), so they are dealt 5 cards (button "Deal new hand") and pointing to the opening (initial bet, the maximum value is the value of TV). He then proceeded to exchange cards and the final episode (maximum value of the pot) to see the point and to determine the winner of the pot. When the challenger loses all claims will have to remove a piece of clothing to be able to continue to play at the next level. Download this app from Google Play Store.
Strip Poker iPhone Game Apps
You can find a few strip poker game apps to be played on your iOS devices be it iPhone or iPad. Fun Poker is a strip poker app for iPhone players. This poker game comes with a twist for you and your partner. You can either play normal poker or follow the rules to play your own erotic game of Strip Poker. The app is easy to follow and fun but only for you and your lover, or friends with benefits! You can download this app from iTunes
Another is the Bikini Poker Casino app where you can enjoy your favourite video poker games with cool cards featuring cold beer and hot babes. You are even able to challenge your friends in Game Center. Bikini Poker includes 6 of the most popular video poker games: Jacks or Better, Double Double Bonus, Acey Deucey, Super Aces, All American and Aces and Faces. You can download this app free from the iTunes App store.
Hot Boodies Poker is another game app for your iPhone with some great features like free daily rewards, awesome characters, no real money bet and more. You can download this free app from the iTunes app store.
Strip Poker app is the latest app for iPhone users to enjoy this game. A game of strip tease and a chance to get your girlfriend's clothes off or just make your bedtime routine a little more sweaty!
Everybody loves a little bit of naughty fun now and again. So why not enjoy a Vegas-style casino environment with a raunchy twist that delivers the thrill and excitement right to the palm of your hand? This app is not a free app but may cost you CA$1.39 at the iTunes app store.
Where to play Strip Poker
You can play strip poker on your smartphones be it Android or iOS devices like iPhone or iPad with the game apps. Also, you can play strip poker online at casinos that offer this game. Or you can enjoy online live with the real dealers available at the online casinos like any other live dealer games that you play.  This is also a PC game so you can enjoy it anytime on your PC sitting at your home connected to the internet.
To have more fun and to make this game more interactive play online live you can also play at Strip poker supreme website on your PC. This site offers high-quality video and the player perceives the game almost as if it was played against a real human opponent. It appears that the perception is so real that players often cannot keep from talking to their computer opponents as if they were really sitting and undressing just next to them!
You can even enjoy strip poker with Xbox 360  playing Dead Rising 2 where you can play a friendly game with some survivors you've rescued. Around day three you'll get a side mission called "Ante Up". This mission takes place in the Safe House, where there is a poker table set up in one of the store rooms. You're not playing for money, you're only playing for clothing. If you beat your opponents, they'll be nude covering themselves with their hands, which is always amusing. If you saved Jack in the "Welcome to the Family" mission, then he can be in your game and you can win the Knights Helmet from him. You can buy this game from the Microsoft Xbox store.
So you see there are so many ways to enjoy Strip Poker. Now enjoy the way you want to have fun.
Conclusion
This is how you should play Strip Poker Online in Canada.
How to Play Strip Poker Online Canada

,