How to Win Daily Keno Ontario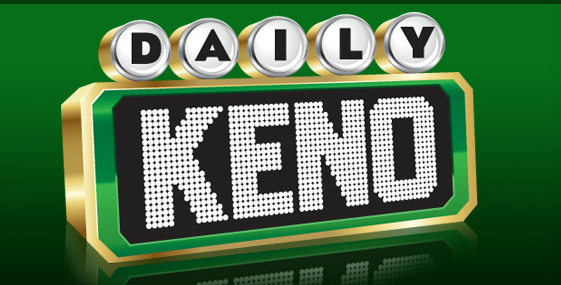 Daily Keno Ontario jackpot is worth $250,000 and who doesn't want to win this huge prize. There are so many winners of this fantastic lottery and the list of wins goes on and on. Michael from Cambridge won daily Keno $25000 lately, another winner Osmond Gordon from Markham won $100,000 with Daily Keno. Gordon won the evening Daily Keno draw on June 22 2017 after purchasing a ticket from HTM Convenience on Buttonfield Road in Markham. Daily Keno players pick their strategy from a "2 Pick" to a "10 Pick" and pick their bet ($1, $2, $5, or $10) to pick their prize.
Last year a Brampton man won big through Daily Keno. Also many handsome winners from the past to name are Dong Ngu of Kitchener who won the draw on September 21st 2016 which is worth a whopping $50,000.The winning ticket was purchased in Kitchener at a Shoppers Drug Mart on Ottawa Street. Also in January 2016 Barrie couple had an awesome experience winning $250K Daily Keno win. There are other winners to quote too but his couple got lucky to win on New Year's Eve.
Imogene Blake was so astonished that she started shaking when realizing she had won $250,000 on a Daily Keno draw. She had bought the Daily Keno lottery ticket at the Prince William Way Hasty Market Barrie Ontario. Discovering about her big win when she checked the result at the store she rushed back home to share the good news with her partner Anthony Baptiste and later on went to celebrate her birthday at a vacation.
All this happened because she knew how to win Daily Keno. It is not that she had learnt from somewhere but she was playing wisely enough remembering that playing lottery did not affect her budget and she had kept a separate bankroll to play Keno. It's neither wise nor smart to spend money meant for bills, and other important things, than on playing lotto.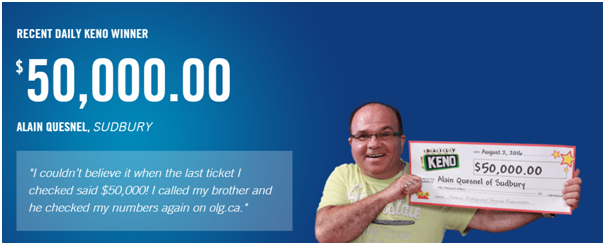 It is easy to learn how to play Daily Keno games in the Ontario lottery. What is not so easy to do is to learn how to win Daily Keno Ontario games. If you can get past the first part of knowing where to buy a ticket, you can move on to the second part of choosing the amount of numbers and the numbers to choose to give you the best odd at winning.
The first thing to realize is that there is no sure fire way to choose the Keno Ontario winning numbers on any given day. There are 20 numbers that are drawn at random and that makes it impossible to say for sure what numbers are going to be chosen from the 70 numbers in the game.
While it is not possible to know what numbers to choose that will guarantee you the big jackpot, there are strategies that can be followed that will give you a better chance at winning more than you lose when you play the Keno lottery Ontario.
How Much to Bet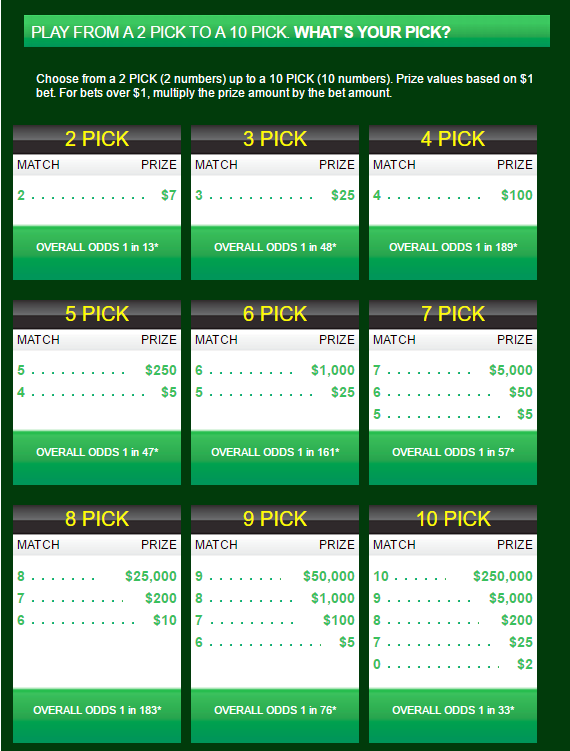 Daily Keno players pick a strategy from a two-pick to a 10-pick and place a bet, ranging from $1, to $10. In order to win the biggest jackpot in the Keno lottery game you have to match 10 numbers from the 20 Keno numbers Ontario games that are drawn. While that may make it sound like you only need to match half of the numbers the odds of being able to do this are 1 in over 2 million. That means that to win a $250,000 jackpot, you have to be willing to lose $2 million. Instead of trying to win the biggest jackpot, concentrate on smaller jackpots that offer better odds. Choosing 8 numbers lowers the odds of winning a $25,000 jackpot down to 1 in about 75,000.
There are also smaller winnings when you are able to match the 6 or 7 out of the 8 Keno winning numbers Ontario daily drawing. It also costs less to make these bets. Over the long run, you will stand a better chance of coming out ahead with this type of strategy.
Choosing numbers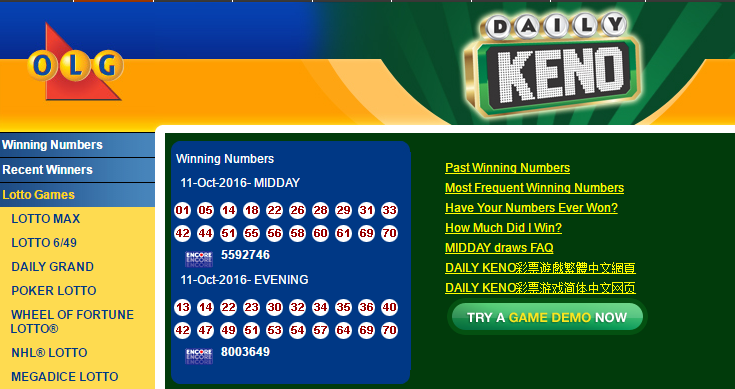 Twenty-nine percent of all the winning numbers drawn in Ontario Keno are numbers that won in the last drawing, and 44 percent of all the winning numbers are either repeat hits or numbers that were out only one game. Furthermore, 58 percent of all winners were out Two game or less.
Although the numbers are drawn at random, there are some things that can be done that can help you choose numbers that are more likely to be drawn in the Keno lottery game. Some of the ways to choose numbers include:
Play numbers from the last game – On average there are 5 numbers repeated from the previous game that was played. It is easier to try to choose 5 numbers out of 20 then 8 to 10 numbers out of 70. Make sure to include some numbers from the last game.
Look for trends – There are many sites that track the trends of numbers for the Keno numbers Ontario game. You can find out what the hot numbers of late are and use them to help choose your numbers.
Find a long shot number – Every Keno Lottery Ontario game chooses over 25% of the possible numbers. That means that every number will be drawn on a fairly frequent basis. If you find a number that has not been drawn for 10 or 20 straight games, it may be a good idea to play that number. The longest time between numbers is about 40 games.
Also always pick the same numbers each time you play. This logic can't be exactly explained, but it's a popular belief that with this consistency in choosing the same numbers over and over again, you may have a higher chance of getting it right sooner or later.
Many players choose to play consecutive numbers, although they change the numbers in particular with each play. For example, one round might include the numbers; 5, 10, 15, 23, 33, etc. and another round might be; 7, 22, 44, 48, etc. In fact, many people do this for every single game they play.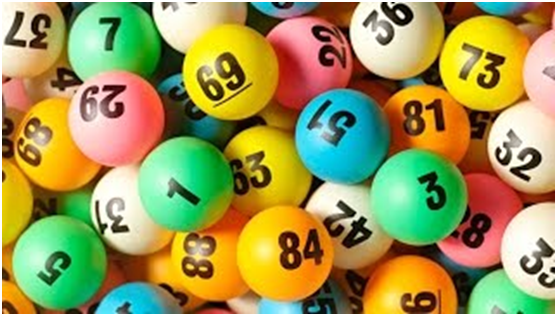 There are those who follow a particular rule of thumb while playing Keno. These players choose numbers that did not show up in their previous games. The logic here is that those numbers will eventually show up, so using them might adhere the best results.
Those who choose to play the same numbers that have already shown up in their previous games believe that there is a higher chance of getting the same numbers again, than there is of getting other numbers that haven't already appeared.
Go for Odd and Even Numbers
You should have a relatively equal mix of odd and even numbers. More than 58% of all the drawings have a relatively even spread of 10 Odd/10 Even or 9 Odd/11 Even or 11 Odd/9 Even. There has never been a drawing in which all Odd or all Even numbers occurred. Therefore have a mix of both the odd and even numbers.
Get the High and Low Advantage
In Keno, half your numbers should be chosen from the Low Numbers, 1 to 40, and the other half chosen from the High Numbers, 41 to 70. Again 58% of all the drawings have a relatively even spread of 10 Low/10 High or 9 Low/11 High or 11 Low/ 9 High. There has never been a drawing in which all Low or all High numbers occurred. Have both low and high numbers to win.
Also playing lottery pools is one of the winning strategies to win Daily Keno Lottery. Sharing the ticket in this way cost with others stretches your Lotto budget. By playing with a group, you can afford to buy more lottery tickets and play more. Before playing draw up an agreement and have the members of your pool sign it. This way also you can have a chance to win Daily Keno.
Winning at one of the Keno Lottery Ontario games is part luck and part science. Make sure you take care of the scientific part to give you the best chance to overcome the luck part of the game.
About Daily Keno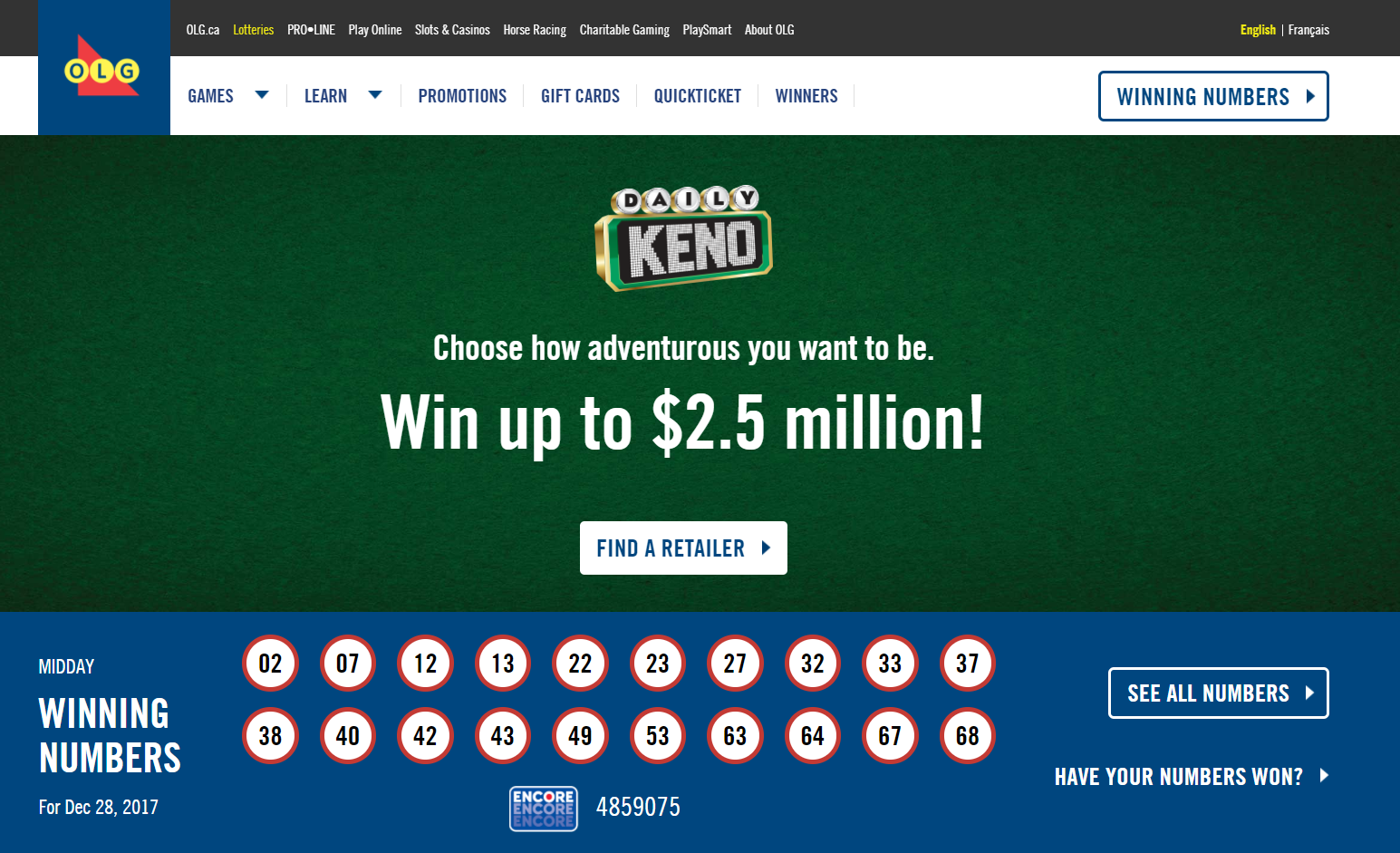 Daily Keno is a lottery game that allows players to choose how they want to play. Twenty numbers from 1 through 70 are drawn daily, and players decide how many numbers they want to match.
Pick how many numbers you want to play. Choose from two numbers (2 PICK) up to 10 numbers (10 PICK).
Pick your numbers from 1 to 70 or choose Quick Pick. As an example, if you choose to play two numbers in step one, you need to pick only two numbers.
Pick your bet – $1, $2, $5 or $10. The more you bet, the more you can win.
Pick how many draws you would like to play, from 1 to 10 draws.
Match your numbers to the 20 winning numbers drawn daily to win.
Also play with ENCORE on Daily Keno
Lottery players can win from $2 to $2.5 million playing Daily Keno
Recently the lotto introduced a new and improved selection slip, new instructions and enhanced ticket features to make it easier for lottery players to learn and play the game
Now a new prize table feature will appear on tickets to show lottery players what they can potentially win on their ticket. This new feature will appear only on Daily Keno tickets generated from the new selection slip and Quick Pick selections.
Tickets printed from the old selection slip will include the following message instead of a prize table: "Visit olg.ca for prize information." Lottery players are encouraged to use the new selection slip since the old slip will be phased out in the future.
You can play up to two boards using the new daily keno selection slip or up to four boards if you are playing Quick Pick at a lottery retailer. The old daily keno selection slip, which is being phased out, offered four boards.
The most popular daily keno selections are 4 Pick, 5 Pick and 10 Pick. The majority of players select their own numbers rather than using Quick Pick.
Also the Quick Pick option is available with this game. When you choose Quick Pick, the retailer will ask you how many numbers you want to play and how much you want to bet.
Click here to know the latest winners of Daily Keno Ontario
How to Win Daily Keno Ontario

,